ARCHIVE
2021.9.22
Education Program
Study Tour
Kyoto University of Foreign Studies Community Engagement Program-Part1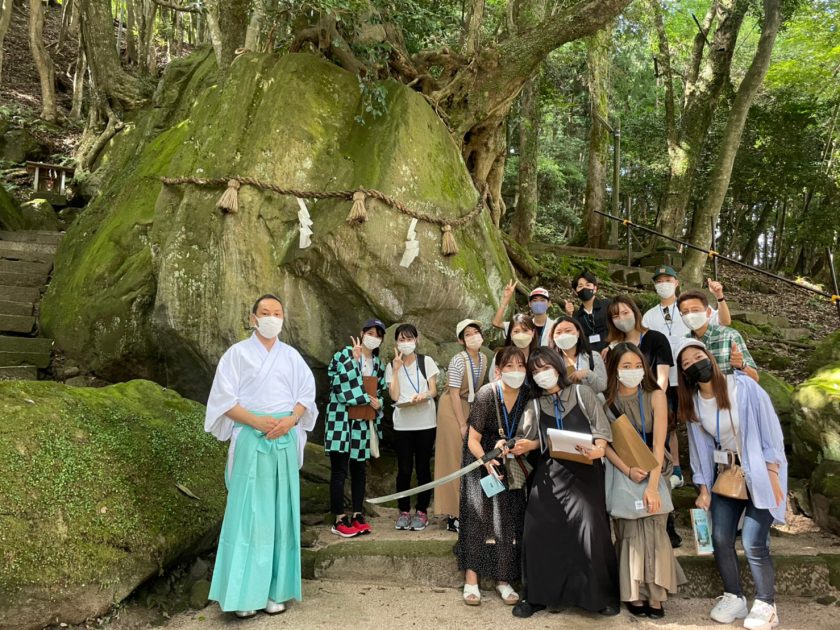 For four days from September 6th to September 10th, 2021, students from the Department of Global Studies at Kyoto University of Foreign Studies came to Kyotango City to participate in the Community Engagement Program(*1) in order to learn about community tourism (* 2) and eco-tourism.
※1
The Community Engagement Program (CEP) is part of the Global Studies Program at Kyoto University of Foreign Studies. This class is focused on solving contemporary problems in both Japanese and overseas communities.
※2 
Community tourism is a form of tourism that aims to revitalize the region by promoting it while preserving the history, culture, industry, and lifestyle of the region, with the local community taking the lead. Promoting community tourism has the advantage of preserving local resources and culture, creating employment, and increasing the number of people interacting with the area.
Pre-online presentation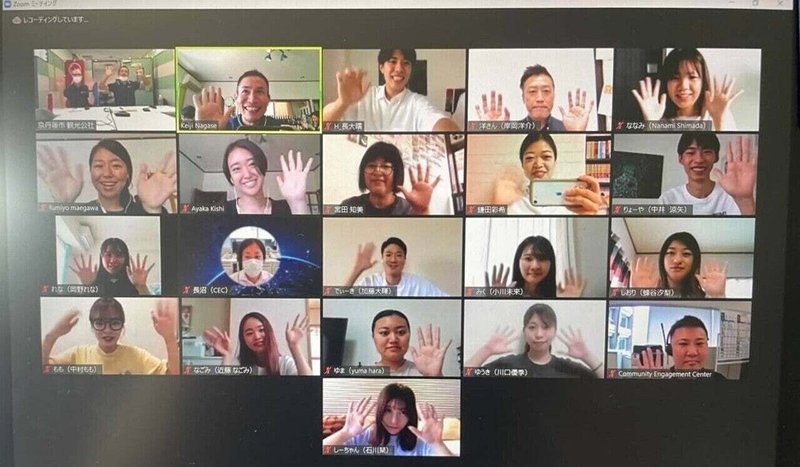 Before their visit to Kyotango, we had many meetings online and asked the students to make presentations on tourism content proposals for Kyotango. 
In addition, local companies gave five lectures regarding sightseeing, transportation, food, etc. in Kyotango, in order to deepen students' understanding of this area.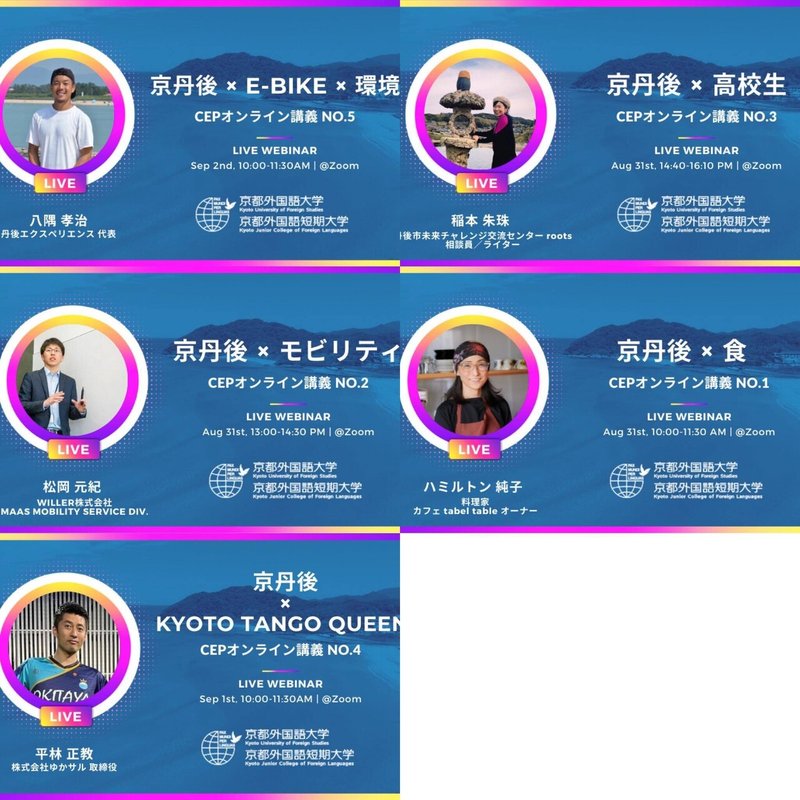 Because most of the students had never visited Kyotango before, in the first presentation, each team struggled thinking about what kind of tourism content is sustainable for both customers and local people. They continued brainstorming ways that visitors could experience the charm of Kyotango.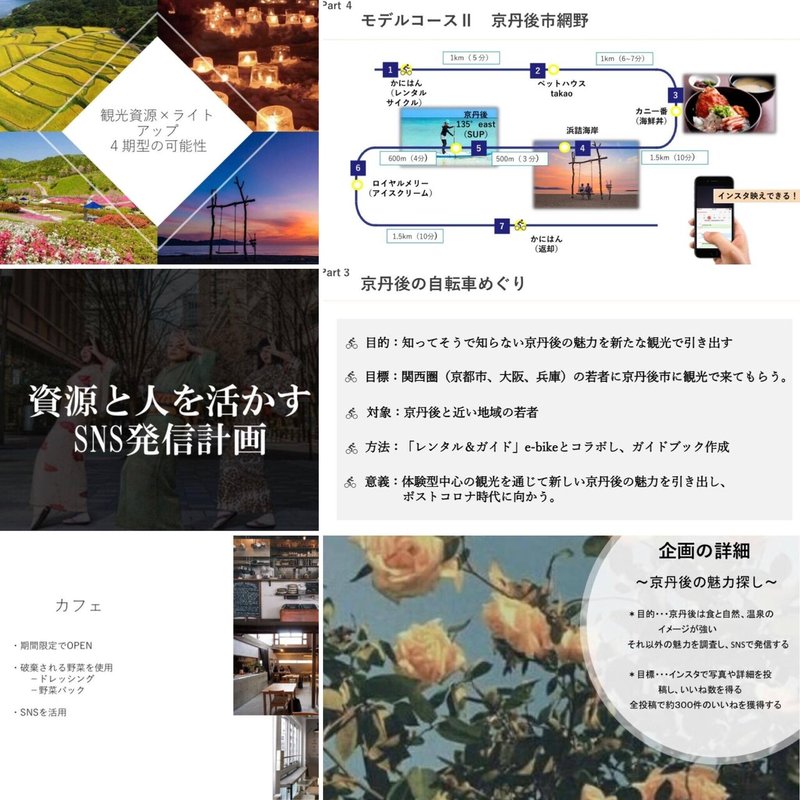 ***
In the presentations by the students, many projects used SNS as a strategy to promote Kyotango. 
A lot of companies use SNS for marketing these days. I felt that students who incorporated SNS into their project did so without thinking deeply about the local context.
For example, by posting an eye-catching photo on Instagram, it is possible to appeal to many people and efficiently attract a large number of visitors. On the other hand, in order to achieve sustainable tourism that truly conveys the charm of the area to customers, makes local people comfortable, and does not over-burden the environment, it is necessary to pay attention to the use of SNS in tourism.
Of course, it is important to make efforts to attract many customers to tourist spots, but it is more important to have people who are interested in the local culture, natural environment, and people living in the area. This approach can lead to establishing return visitors and realizing sustainable tourism.
In community tourism, "quantity<quality".
I feel that tourism that only attracts a large number of customers is obsolete.

DAY1
September 6, 2021, the program finally started!
A total of 13 students from Kyoto city came to Kyotango and visited the shops and tourist attractions in the area.
Students from the city were very excited about the deliciousness of the seafood bowl made from fresh fish caught in Tango!
神谷太刀宮神社・磐座  Kamitanitatchinomiya Shrine・Iwakura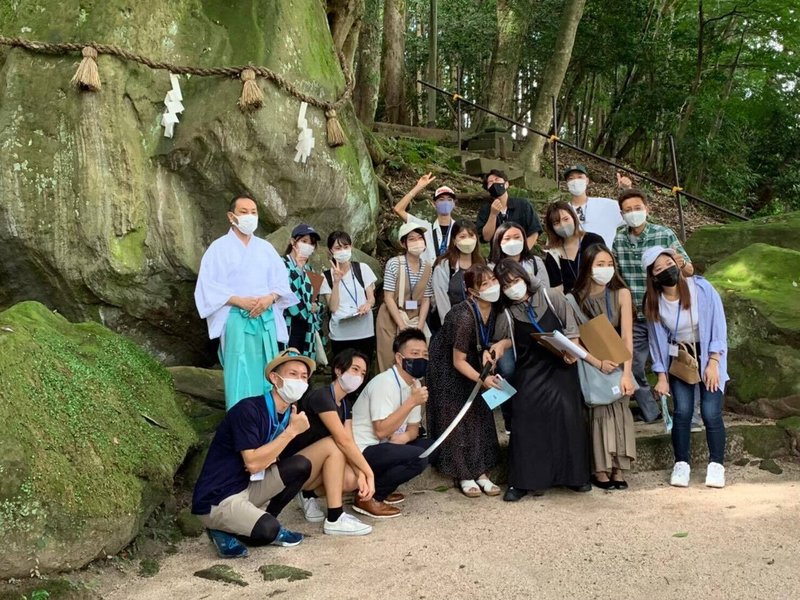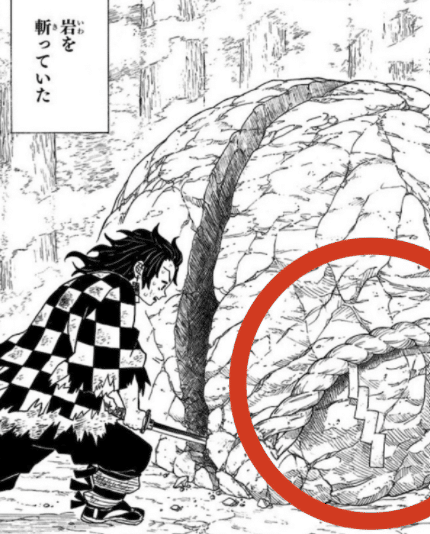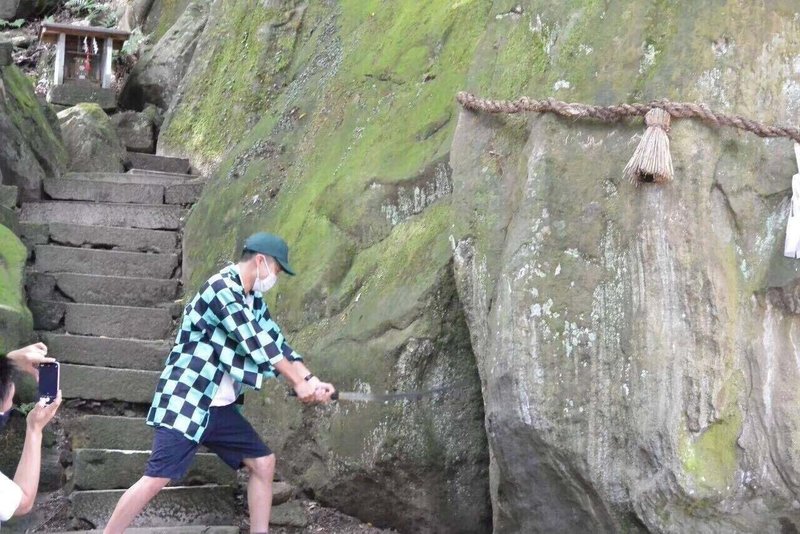 Iwakura became famous because it was used as a model for a scene that appeared in the anime, "Kimetsu no Yaiba". 
We learned from the chief priest about ways to market to customers using anime.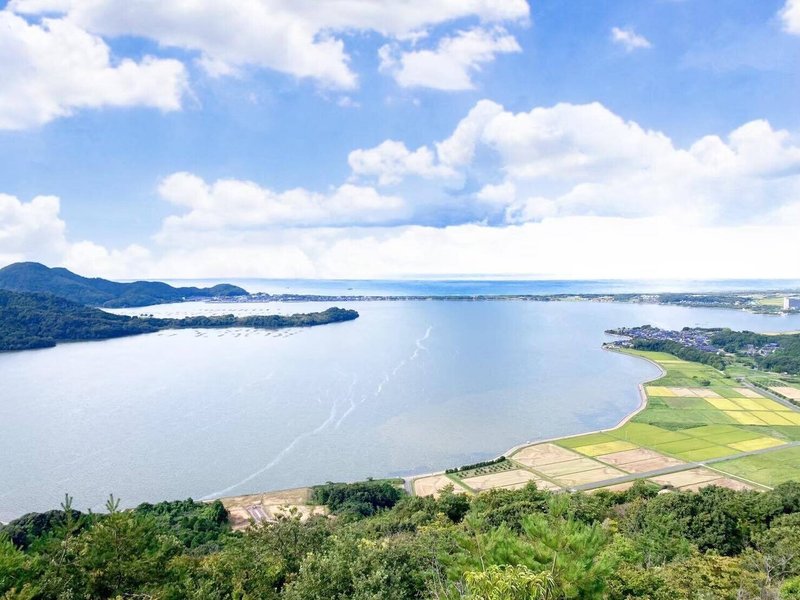 Although it is a short climb of 30 minutes, Mt. Kabuto has a steep uphill slope to the top. It was impressive to see this view overlooks Kumihama Bay from the observatory after finally climbing up!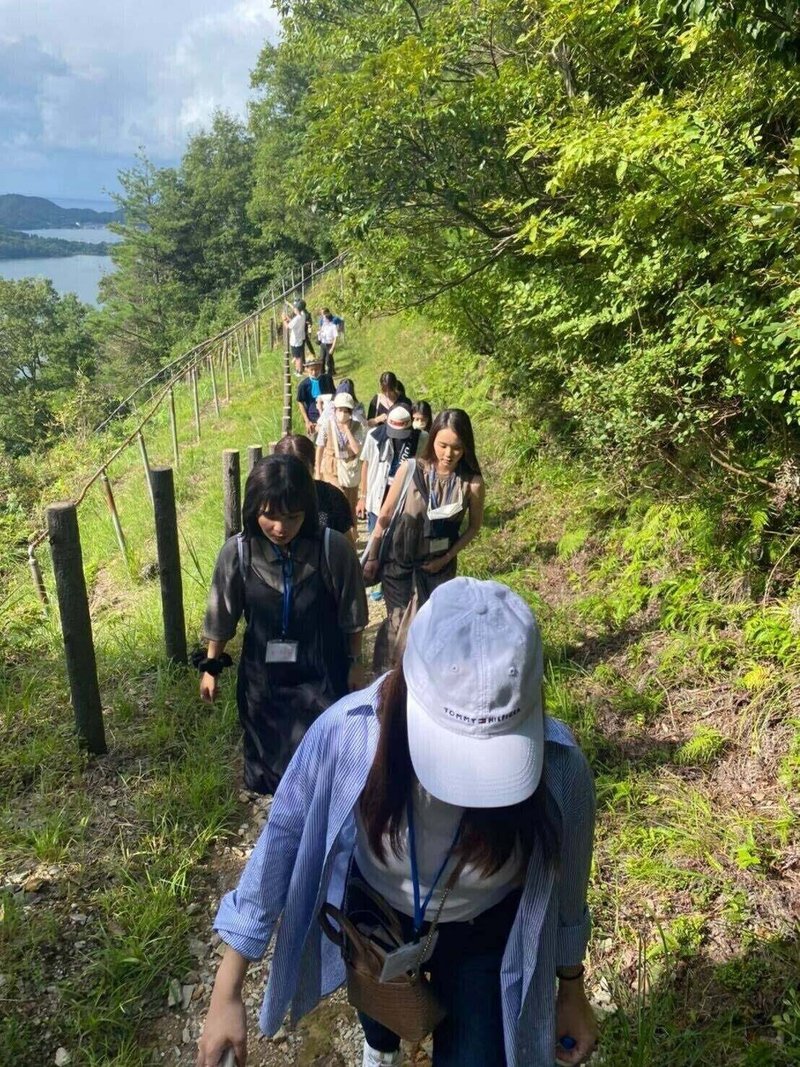 The students said, "The excitement I got when we reached the top was amazing because we had a hard time climbing up. We got soaked in the rain when we are coming down the mountain, but even that we fun. "
Students experienced the "Tango-like weather" on the second day. The Tango region is prone to mercurial weather, so this was a great opportunity to learn how to make a tour that can be enjoyed even in bad weather.
In addition to fish, Kumihama, Kyotango is famous for its high-quality fruits, including varieties such as Shine Muscat and 20th-century pears.
After hiking at Kabutoyama, we had a smoothie with plenty of fresh fruits from Kyotango at Ieki Farm.
This smoothie uses not only fruits but also delicious local milk, and is 100% locally produced! We also learned about the fruit trails(*3), which are efforts to support local farmers.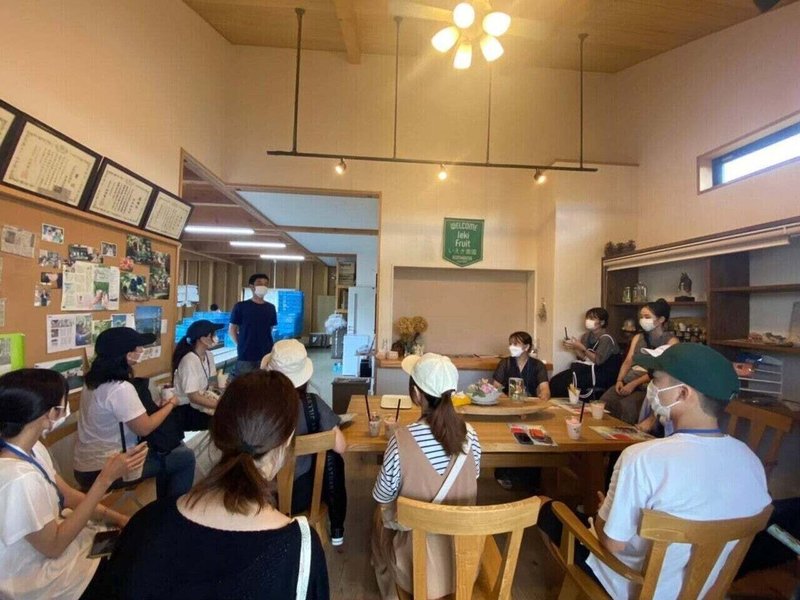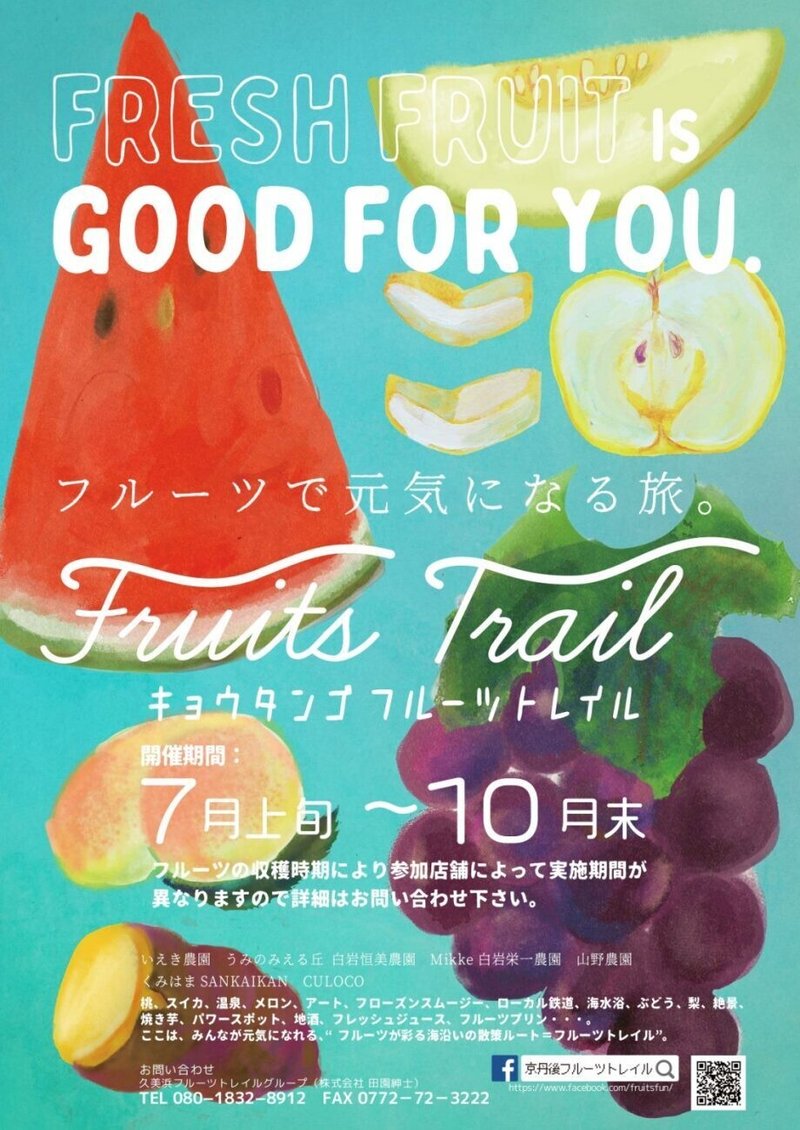 ※3 フルーツトレイル Fruit Trails
https://fruitstrail.com/https://fruitstrail.com/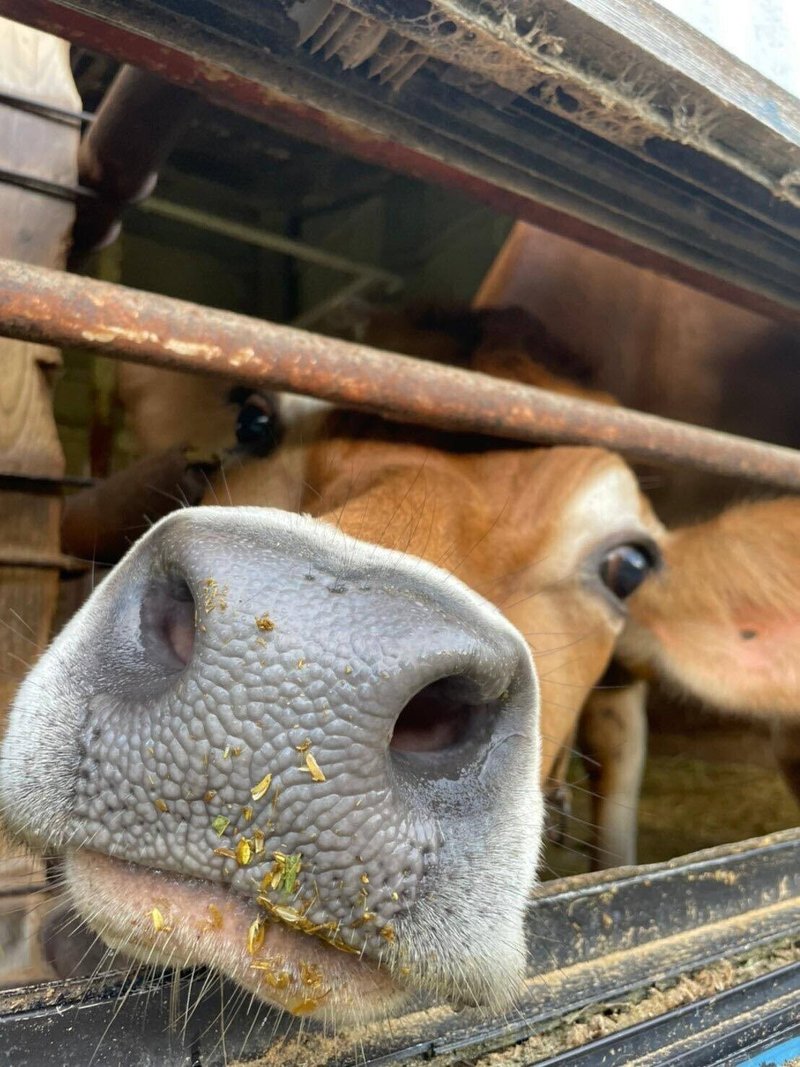 Finally, we reached Sora Ranch. The ranch cares for the cows throughout their lives, and, once passed, the cows have their own place in the family cemetery. 
The shop sells dairy products that use plenty of milk from the cows, all of which are very delicious.
DAY2
Since many students were interested in environmental issues, we incorporated many ecotourism elements into the training program to help them learn about environmental issues such as marine debris.
One group that had planned a cycling tour with e-bikes (electric bicycles) in their presentation, so, on the second day, we started off with a ride.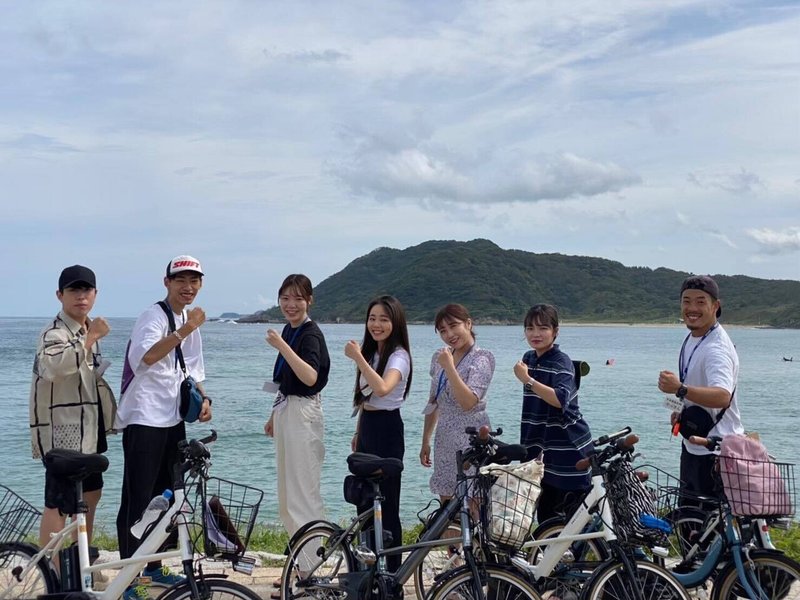 After cycling along the coast of Hatchohama, we did a beach clean at Obama Beach.
While showing the garbage falling on the beach, Mr. Yasumi of Tango Experience explained why so much plastic waste has been accumulating, and how serious this marine pollution problem is now.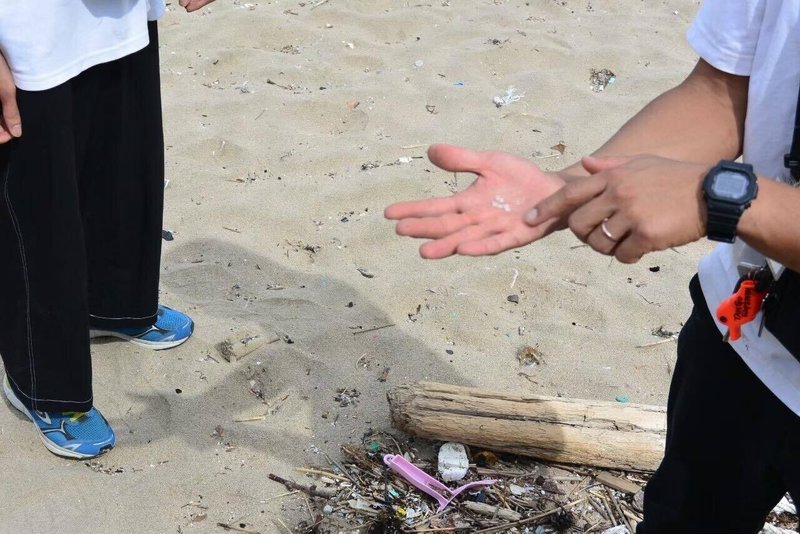 After that, we visited a workshop called Precious Plastic Tango (* 4) for upcycling plastic waste to create new products. Mr. Yasumi said that he also handmade the equipment for upcycling plastic waste from scratch.
Although he moved to Tango because of the beauty of the sea, he was shocked after living here by the amount of garbage that accumulates on the beach.
He started this activity so that his son's generation can continue to play in the beautiful sea. Now he is making products from the recycled plastic including coasters and key chains.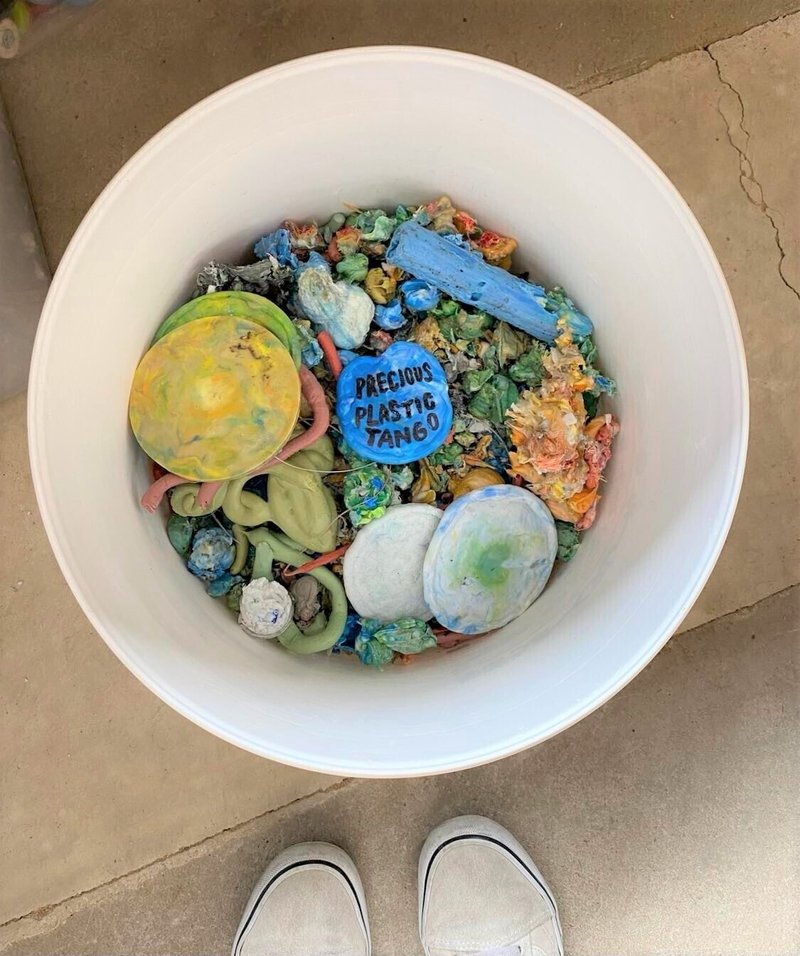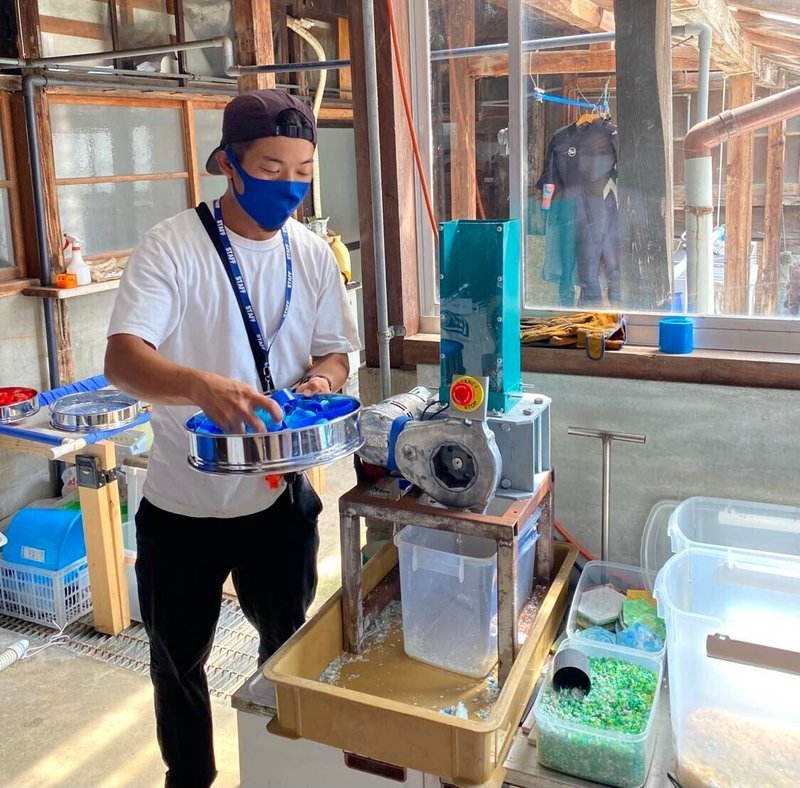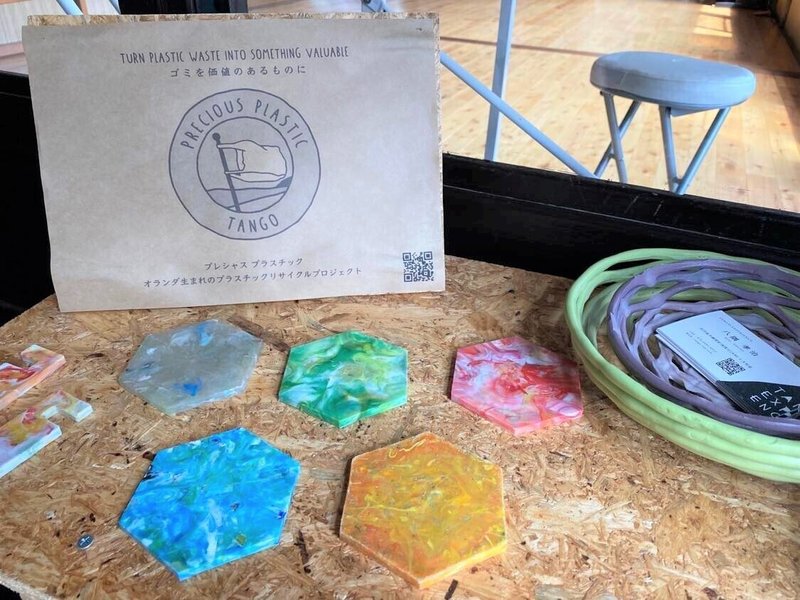 ※4 プレシャスプラスチック丹後 Precious Plastic Tango
https://tango-exp.com/precious-plastic-tango/
Tango has a history of prospering with textiles, and even today, 70% of Japanese kimono is made from Tango Chirimen (* 5).
※5 丹後ちりめん Tango Chirimen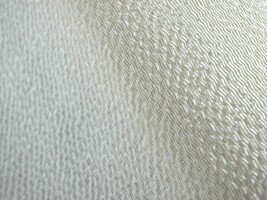 We visited the factory of Tayu Chirimen, which has kept up the tradition of Tango Chirimen weaving from generation to generation.
Everyone in this group has worn kimono before, but it was a rare opportunity for students to see the actual weaving of the fabric.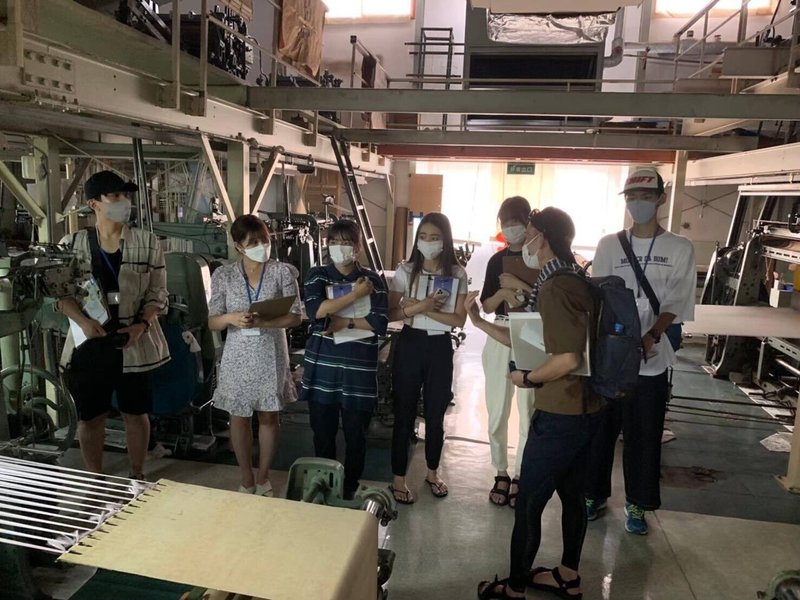 At the Kotohiki salt factory, various salts are made from the seawater of Tango.
"Salt grandpa", an older man who is well-known at Kotohiki's salt factory, explained how salt is made from seawater.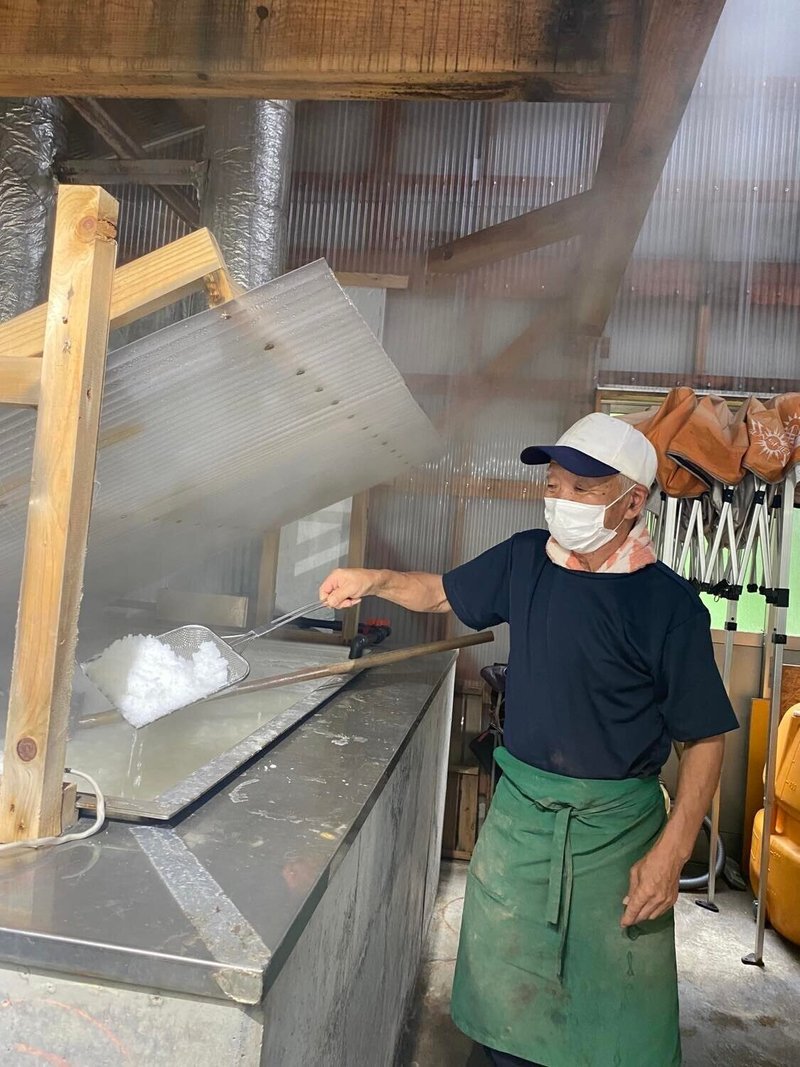 You can experience making your own salt at this salt factory as well. We brought back the salt we made as a souvenir!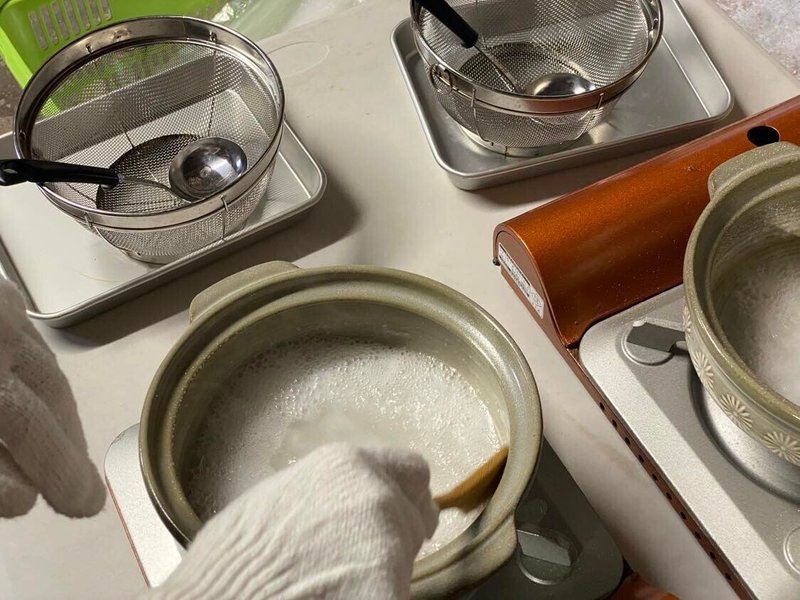 After visiting the Kotohiki salt factory, we joined Ms. Sawa of Tobiwatari, at Mitsu Fishing Port for a sea tour. We took a kayak out to a cove where garbage accumulates due to the flow of the tide.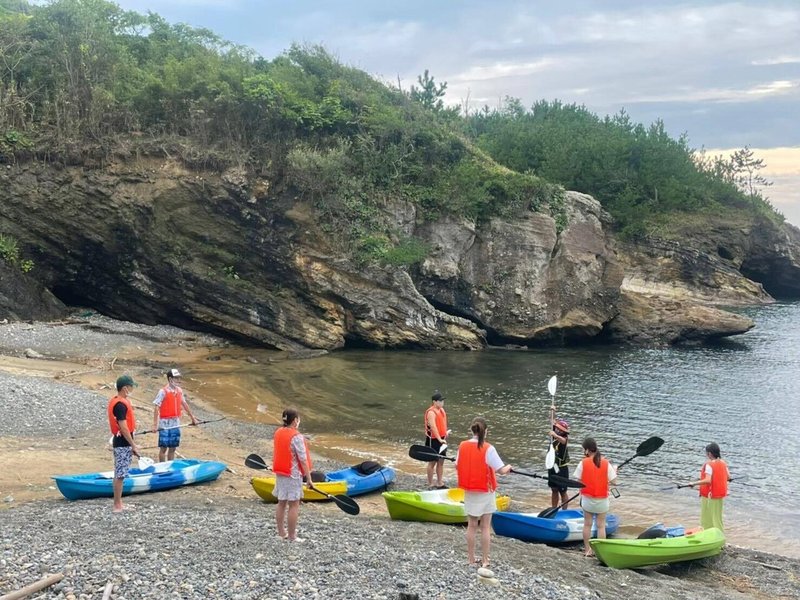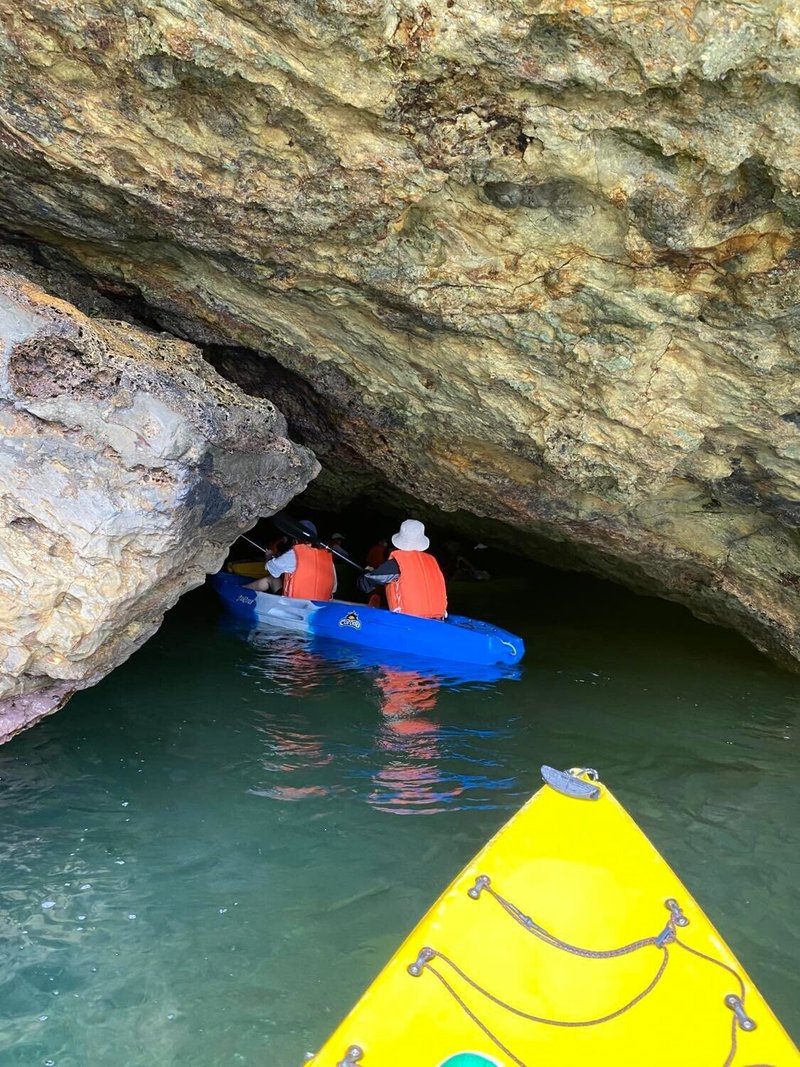 There is so much garbage that you can't see the sand of the beach at all… It is a truly disturbing and heartbreaking sight.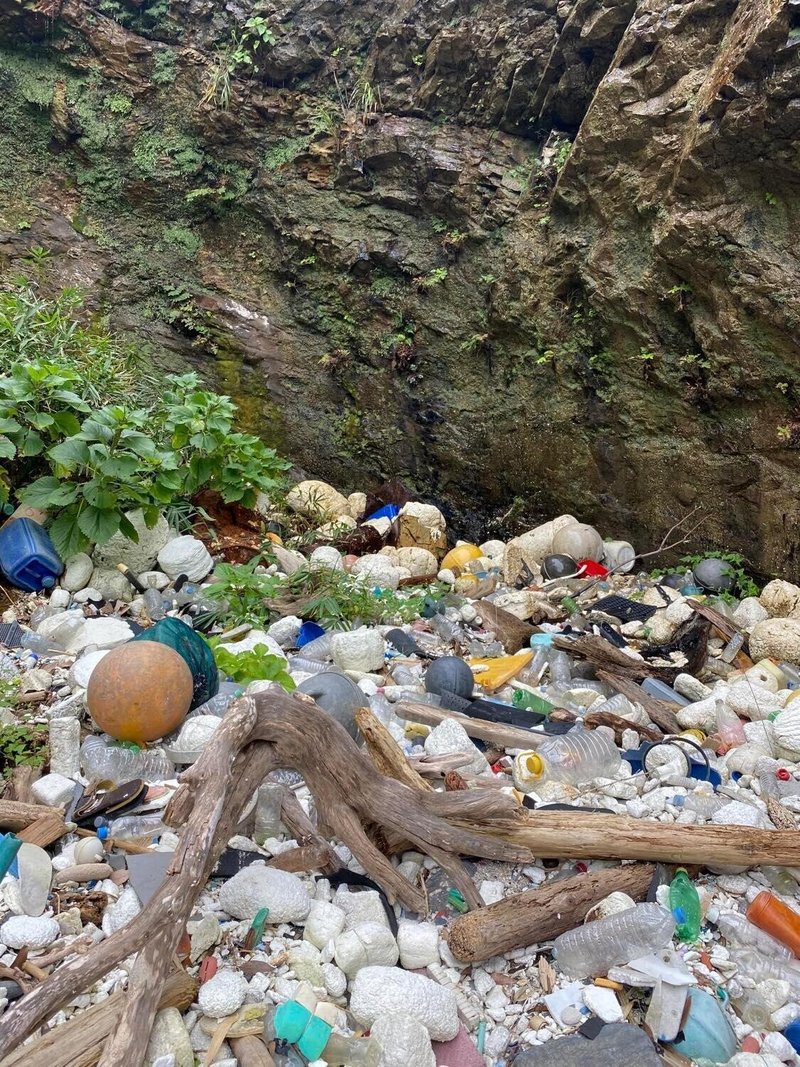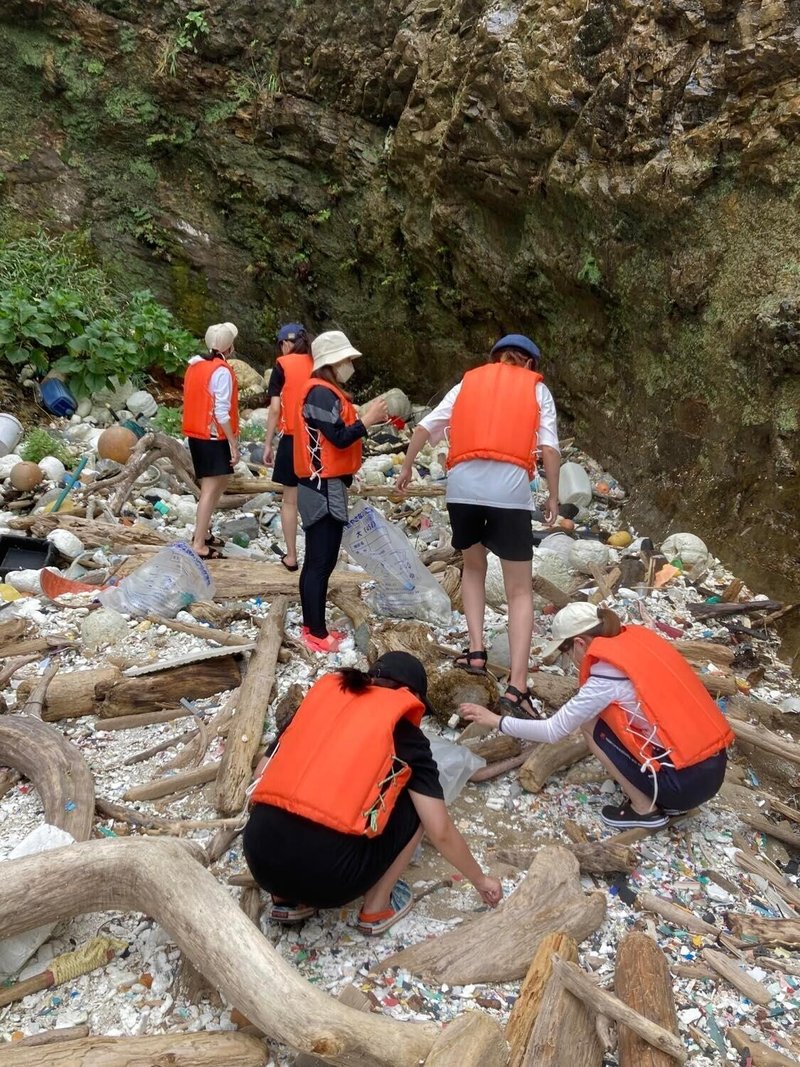 Ms. Sawa started this tour with the desire to let tourists see not only the beautiful sea, but also the reality of serious pollution. After the tour, the students said, "The scene was shocking because we saw the breathtakingly beautiful sea juxtaposed with the dire pollution crisis."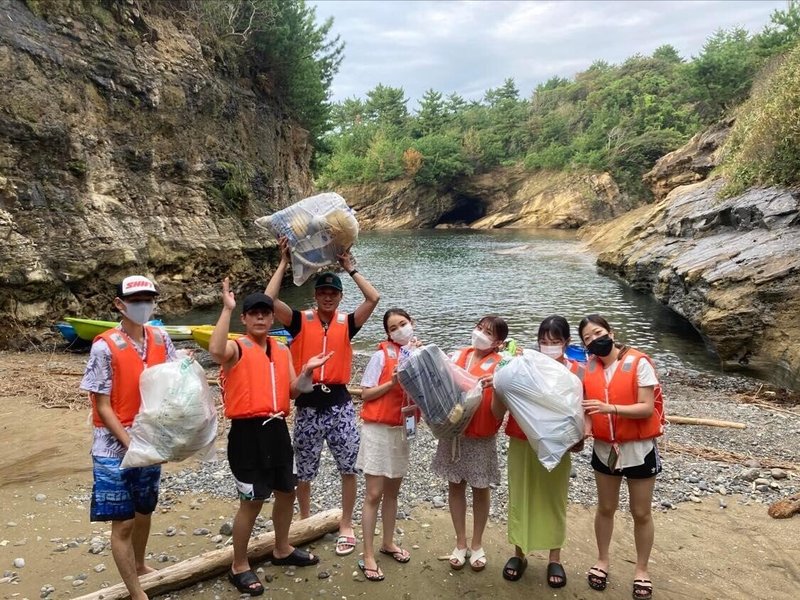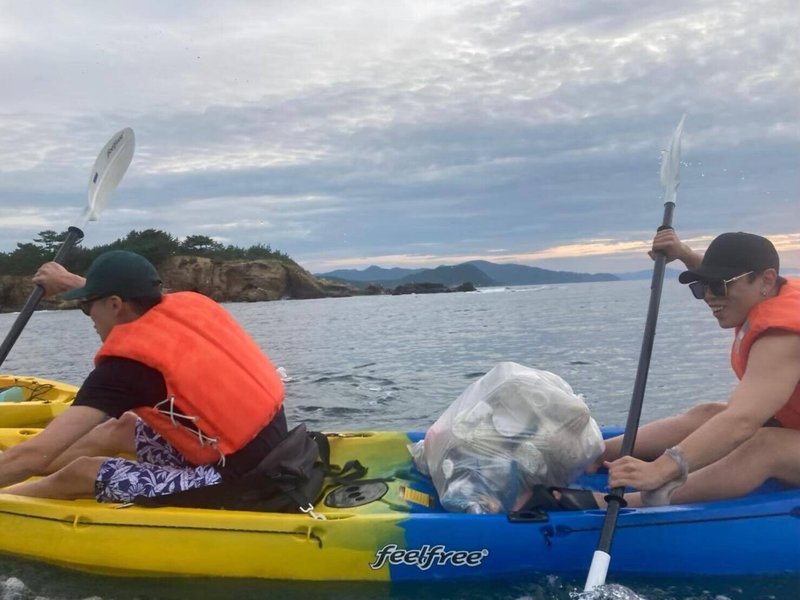 After finishing sea kayaking and beach cleaning, we made herbarium pens at the Lighthouse Café in Mitsu, which is also run by Ms. Sawa.
We put sea glass, shells, and plastic trash from our beach clean-up in our pens so that we would remember the sea of Tango and be inspired to take up environmental activism even after once the tour had finished.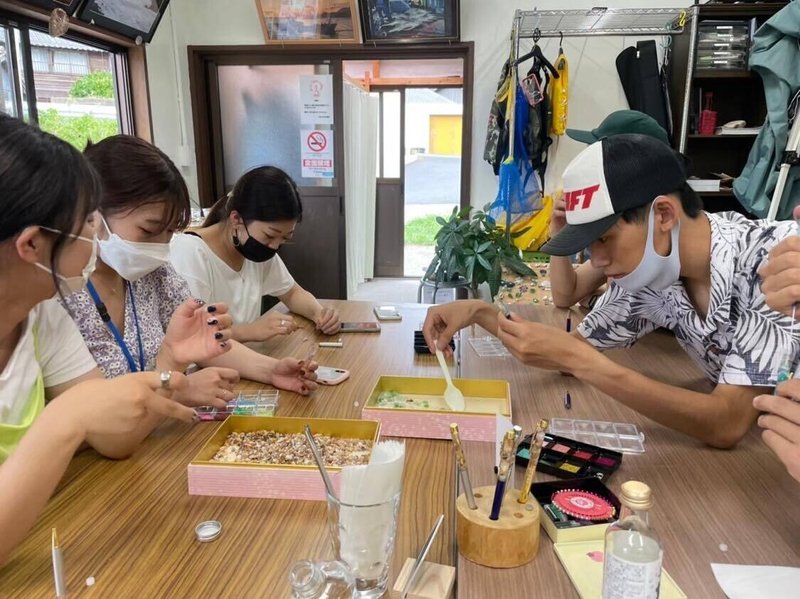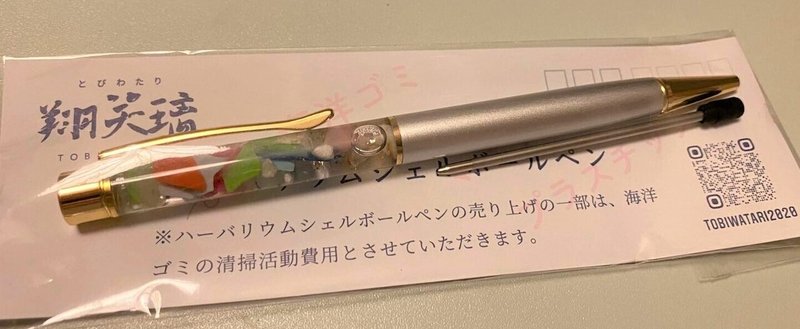 \Thank you for reading/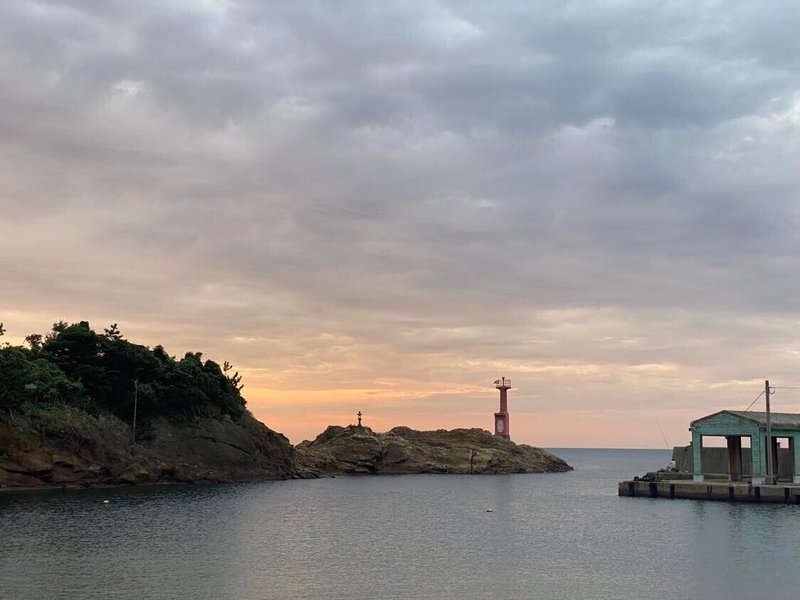 Writer:岸 あやか Ayaka Kishi(一般社団法人Tangonian)