ARCHIVE
2021.7.2
Education Program
Local & Global Exchange
Aiming for sustainable Satoyama and Satoumi in Tango-Part2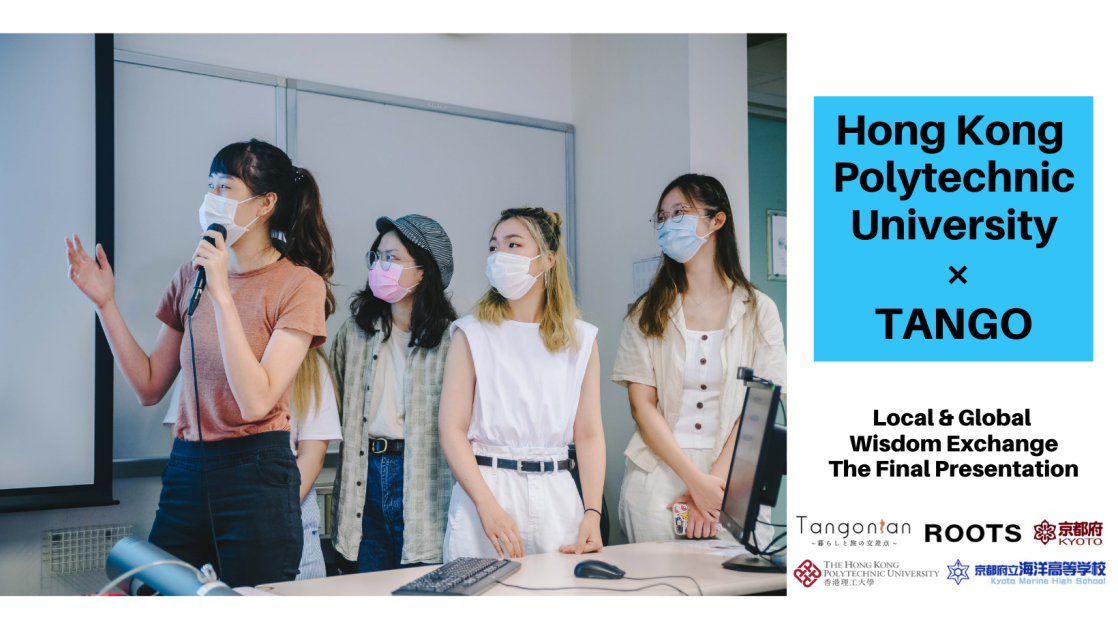 The online exchange event "Sustainable Satoyama / Satoumi Model in Tango Creation Project" Hong Kong Polytechnic University x TANGO ~ The Final Presentation ~ was held on June 28th and 30th, 2021.

ーーーーーーーーーーーーーーーーーーーーーーーーーーーーーー
『Sustainable Tango Satoyama / Satoumi Model Creation Project』
(Kyoto Prefecture Tango Wide Area Promotion Bureau
Related Population Creation Program Adoption Project)
Organizer:General Incorporated Association Tangonian
Co-organizer:Kyoto Prefecture Tango Wide Area Promotion Bureau
(Partners)
Hong Kong Polytechnic University・Kyoto Prefectural Kaiyo High School
(International Education Coordinator)
ROOTS Co., Ltd.,
(Cooperation)
Kyoto by the Sea DMO
Yasushi Hondo(representative of Hondo Fisheries)
Yahiro Jikyo(Kamimiyazu Regional Conference)
Shunsuke Terada(representative of Kamiyazu lab)
Naoya Seki(representative of tangobar LLC)
Yoshio Akamatsu(Assistant Professor, Center for Southeast Asian Studies, Kyoto University)
Shunsuke Azuma(student of Kyoto University)
Kohei Morishita(student of Kyoto University)
ーーーーーーーーーーーーーーーーーーーーーーーーーーーーーー

Proposals by Hong Kong Polytechnic University students aimed to create sustainable Satoyama and Satoumi in Tango ~The second group~

┃Group4 Sustainable fishery program with the concept of "ITADAKIMASU"
This group approached the problem of overfishing in the fishery, focused on the Japanese culture of "ITADAKIMASU" and proposed a sustainable fishing program with this feeling.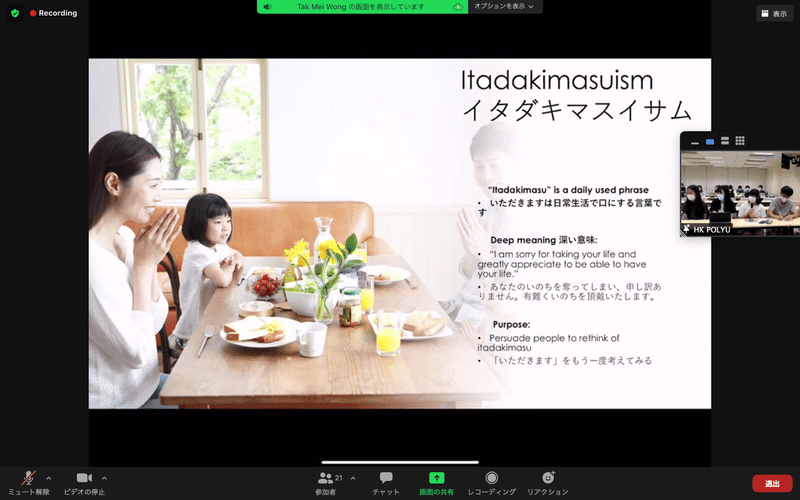 The proposal of "fish card" was highly evaluated because it was concrete and could be realized immediately. It was a card that describes how to do sustainable fishing, the amount that could be caught per person, the fishing season and the spawning season. There are two types, one for professionals and one for beginners, and it was designed to be used by fishermen, locals ,and tourists alike.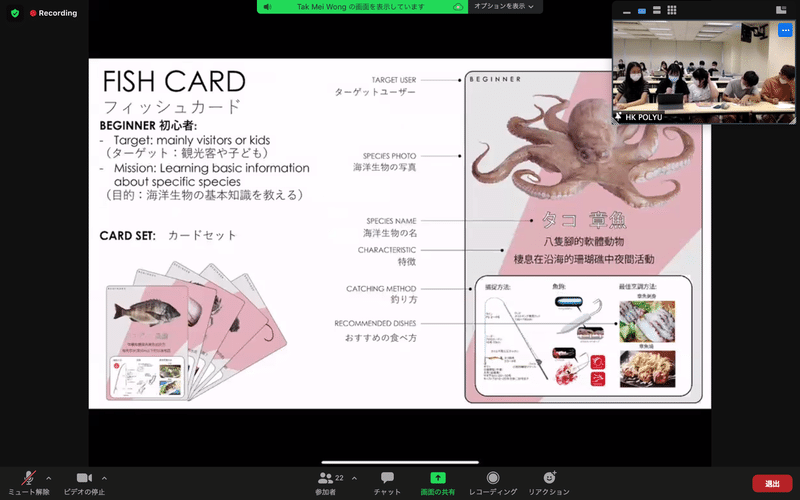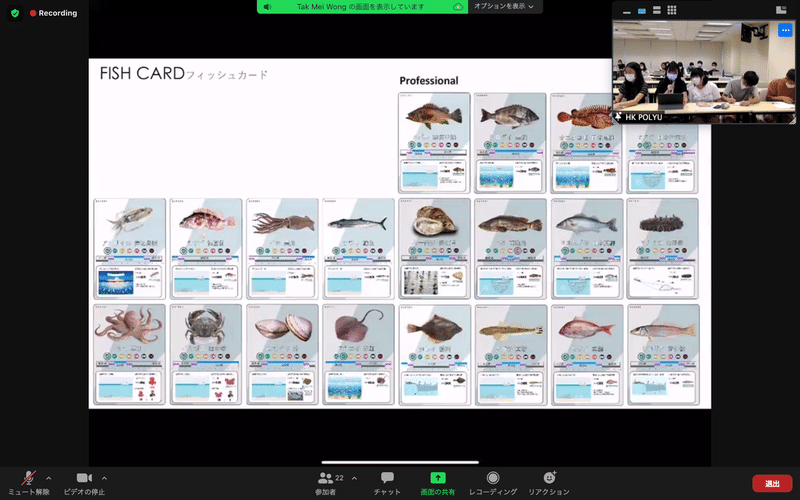 In addition, they also had a program with the concept of "learning x playing" in the fishing industry. They suggested a place where you can learn how to catch and cook fish from local fishermen and students of marine high school and introduced them with ukiyo-e style illustrations that look good on the sea in Miyazu.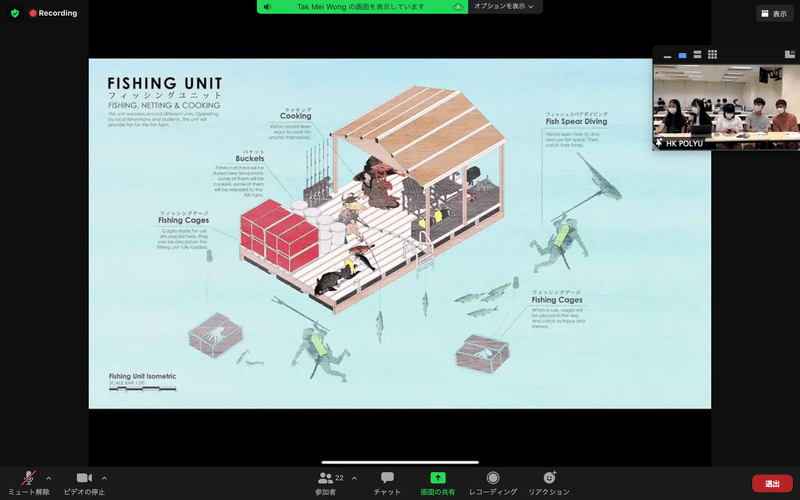 Ms. Feilang, a social designer co-representative of ROOTS Co., Ltd., commented, "It is wonderful that they have properly understood Japanese culture and incorporated it into the concept of "ITADAKIMASU. "

Participants also commented, "If you look at the fish card, consumers will be able to buy the fish they caught when they should." Also there was an opinion "I reaffirmed the splendor of the culture of "ITADAKIMASU" and realized that it is important to ask about the contents of fishing as well. I think you can use the fish card when you serve fish at the Ryokan."
┃Group5.Development of point system application for sustainable tourism
This group proposes an app called "Tangopia" that combined Tango and Utopia with the theme of sustainable tourism.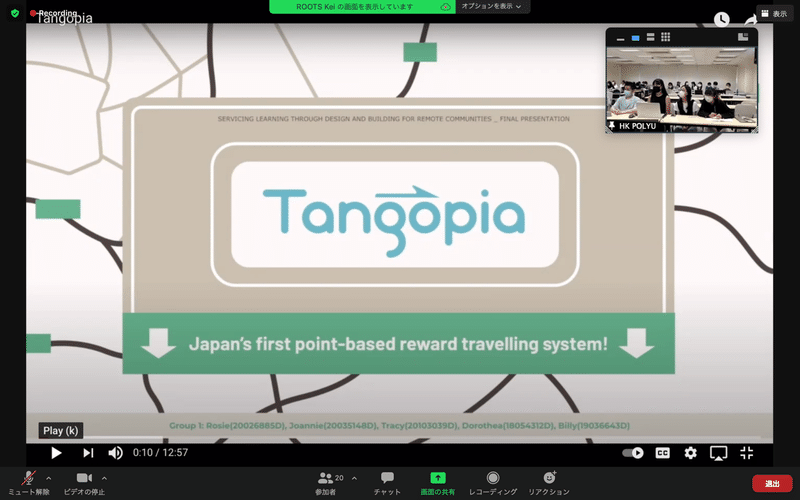 Travelers can receive points if they contribute to the community in some way, and can use those points for accommodation, eating and drinking, and experience services.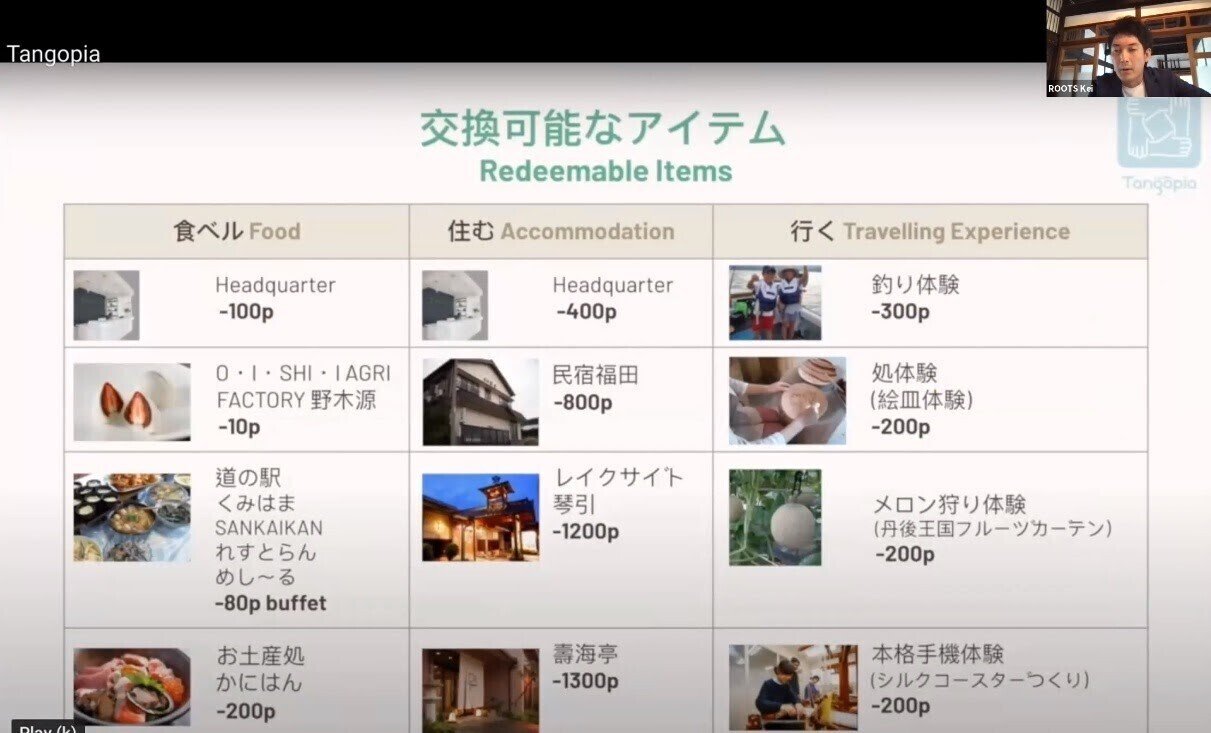 Contributions to the community range from simple things such as washing dishes to specialized ones such as interpreting and fishing, and the number of points you can receive varies depending on the level.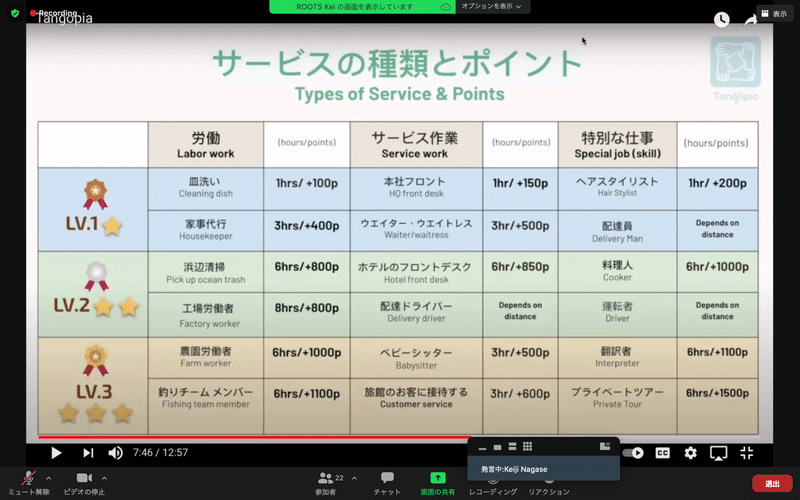 Furthermore, it is interesting that if you can earn a certain number of points over several years, you can get an old house in Tango. It is difficult for young people to have their own house in Hong Kong so it is an idea filled with dreams that it might be possible in Japan.

Unlike Working Holiday, you do not need a visa because Tangopia is not working so you can participate more casually.

Ms. Feilang commented "A challenging but interesting plan that will create the coming era. Everyone wants more special experiences or encounters. With this app, I think you can start doing helpful things in the area smoothly. It is happening locally that people who have contributed to the community can get a cheap house so I think it is possible ."
┃Group6.A forest hotel where you can appreciate the story of the four seasons of Tango
The group was impressed with the question, "Have you ever considered slowing down the pace of your life?" The proposal is about a hotel surrounded by forests, inspired by Japanese movies.
They positioned this hotel as a place to take a break in your life and prepared content that allows you to enjoy a meal with the locals and experience different stories in the four seasons of Tango while staying slowly and for a long time.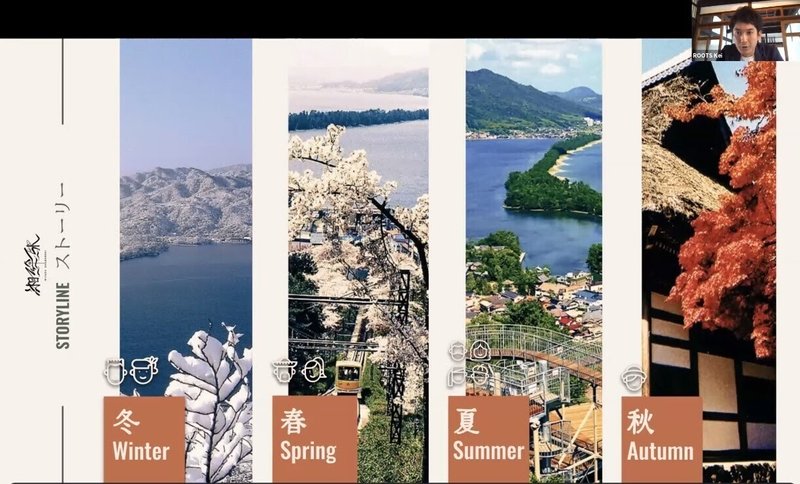 In addition, they envisioned various targets and concretely planned about how to continue the related population.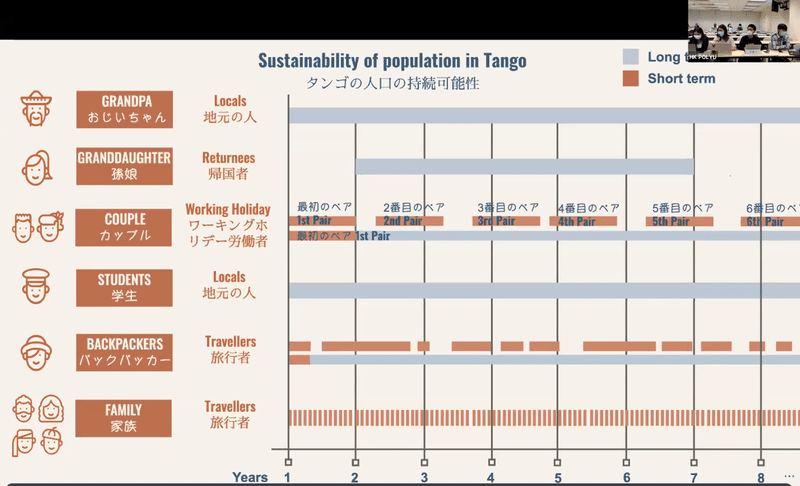 Ms. Feilang commented "There are many tourists in Tango in summer and winter but how can we get people to come evenly in autumn and spring? was a question for them in the interim presentation. It was a wonderful proposal and story that the place to visit is not biased to one place."

Mr. Yahiro Jikyo in Kamimiyazu Regional Conference reviewed "When I visit the area, local people and nature are the most memorable for me. There is a station called "Kita" which says "a lot of joy" in Kanji so I also want to make the same kind of content as this proposal."
┃Group7.New branding of fishery resources
The presentation of the final group by the mascot character called the Sea Treasure Squadron had an impact.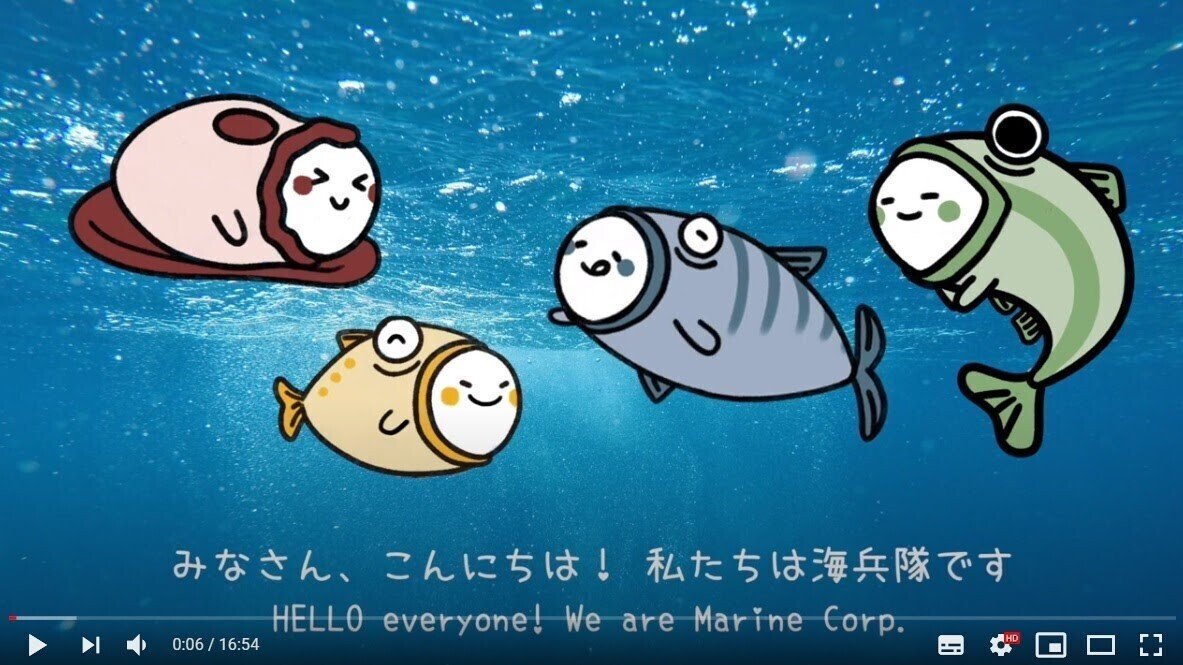 As a new branding of fishery resources, we propose a facility where you can get to know and experience the sea of ​​Miyazu.

There is a restaurant where you can get in touch with food, which projects Japanese food culture on the wall, and a fish can studio where you can make canned fish. In addition, the large windows overlooking the real Miyazu Bay show the producers and seasonal ingredients depending on the season.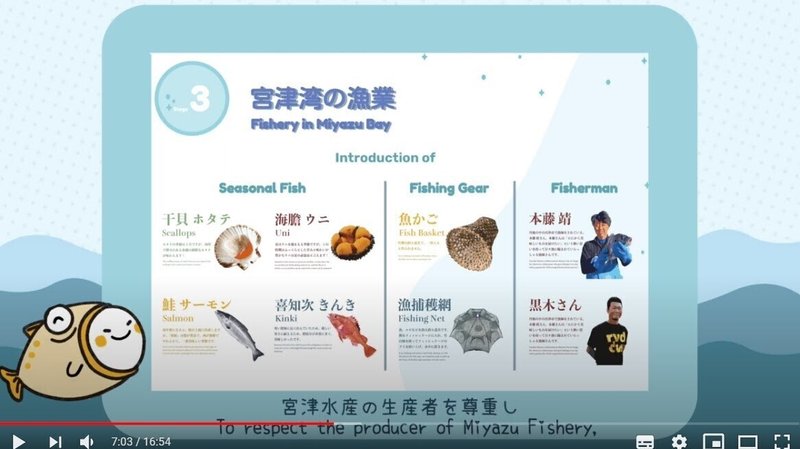 Fishing bags are sold at gift shops, and 5% of souvenirs are used to protect the sea in Miyazu.

Regarding the workshop at the fish can studio, there was an explanation of how to make it in the actual video.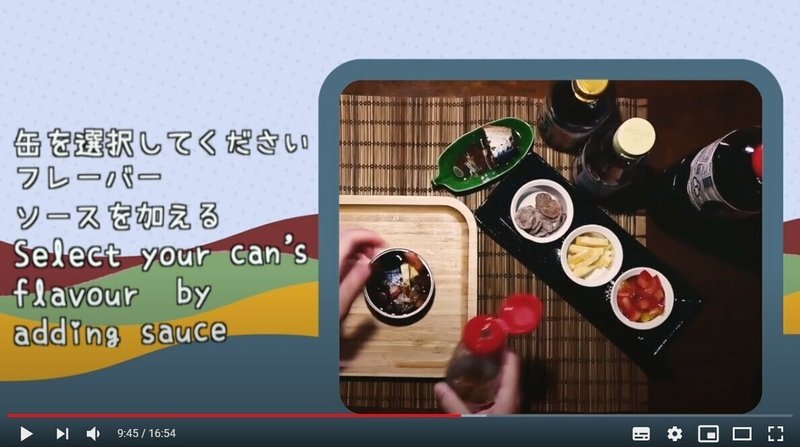 You can also make an original package by using the stacker of Sea Treasure Squadron.

The animation video that was shown at the end, as if it was going around the facility, was as good as an adult, and everyone in the venue was impressed.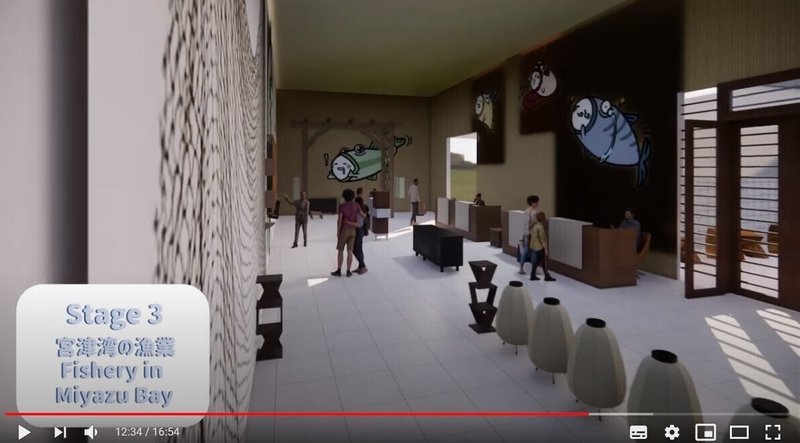 Ms. Feilang commented "I was impressed by the fact that he conveyed us beyond the language barrier. In the interim presentation, they said that we wanted to make it an entertainment place like the Cup Noodle Museum, but I think that the flow from the visitor's visit to the return at this facility was very entertaining as well."

Participants also praised it, saying, "A place where you can learn about Tango, Miyazu, and even Japanese culture. The design and packaging are wonderful."
 After the proposals of all groups
After the presentations of 7 groups in total for 2 days, the participants once again gave their impressions, opinions ,and thanks for the wonderful presentation.
"I would like to share it with people in the tourism industry and locals who are not participating today."
"I would like you to come to visit us and work on the project together. Even though It was online, in the last two days, new encounters and relationships have been created."

"Speaking of the characteristics of Tango, the sea and mountains with different expressions of spring, summer, autumn ,and winter. I was impressed with the proposal after analyzing the issues. It was a concrete proposal that tourism, the proposal of promotion of exchanges, and intercourses between people lead to new human resources development. I got new points of view that I wouldn't normally think about in everyday's life. I want you to come to Tango, see, eat, and feel it with your body."
"There were a lot of heartwarming presentations. We have the concept of being fundamentally connected across national borders but it is very difficult to make connections abroad because of the corona pandemic so I am impressed that we could create a strong bond. Exaggeratedly speaking, it was a new connection challenge, a revolutionary experience in this era. I purely felt design = love. There were so many things that an adult can learn from students. Adults must think concretely from small things."
Finally, Mr. Michael the professor of Hong Kong Polytechnic University concluded, saying "It was a proposal that was made in four weeks, but during this period the students evolved rather than grew. There were theoretical female students and romantic male students, and they had a lot of ideas, so I enjoyed myself. Let's continue to grow together while exchanging knowledge and culture. "

Tourism, community development, education … possibilities in various fields
Keiji Nagase, the representative director of Tangonian, is the organizer of this project says;

"At the Hong Kong Polytechnic University, a student was majoring in architectural design, and they proposed a high-quality design from the perspective of architectural safety so I was very impressed by that."
"Furthermore, I thought through this program, the related population can be created not only from Japan but also from overseas, and by connecting people in Tango and overseas students to form relationships, various issues in tourism and community development will be cleared as well."
"From an educational point of view, I think that getting involved with Japanese high school and university students will lead to long-term exchanges in the future. The teacher at Marine High School also said that it was good to take on the challenge for the students because there was almost no presentation to overseas university students using English. I think by deepening learning with overseas students, the quality of education in Japan may change."
As Mr. Nagase said, a program like this one has a lot of possibilities in every field, and it was the presentation that I witnessed.
In the future, I look forward to seeing how the ideas given by Hong Kong Polytechnic University students can be realized in the region for creating sustainable Satoyama and Satoumi in Tango.
ライター Writer:坂本 知恵里 Chieri Sakamoto
翻訳 Translator:岸 あやか Ayaka Kishi(一般社団法人Tangonian)

You can see the video of the project from the link below!
【Hong Kong Polytechnic University × 京都府立海洋高等学校 (当日の様子)】
↓ ↓ ↓ ↓ ↓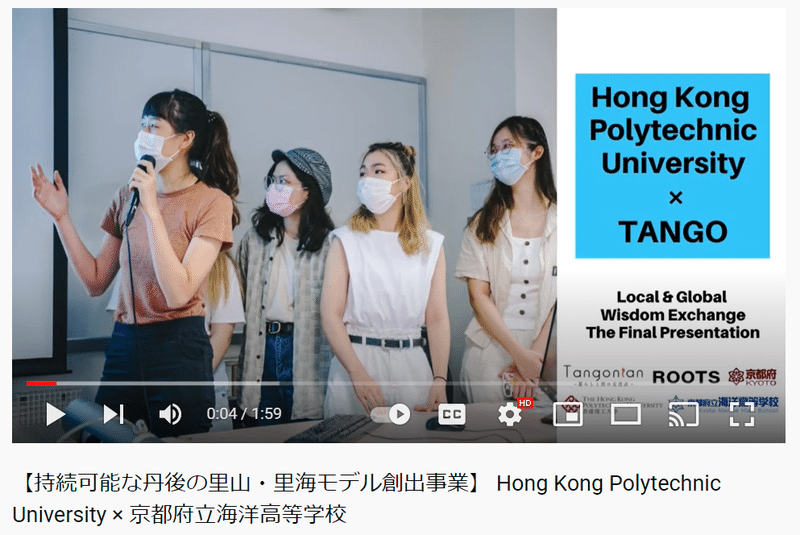 このプロジェクトが香港経済新聞でも取り上げられました!
記事は下記リンクからご覧いただけます
You can read the article from the link below!
【香港経済新聞(リンク)】
↓ ↓ ↓ ↓ ↓