ARCHIVE
2021.7.1
Education Program
Local & Global Exchange
Aiming for sustainable Satoyama and Satoumi in Tango-Part 1-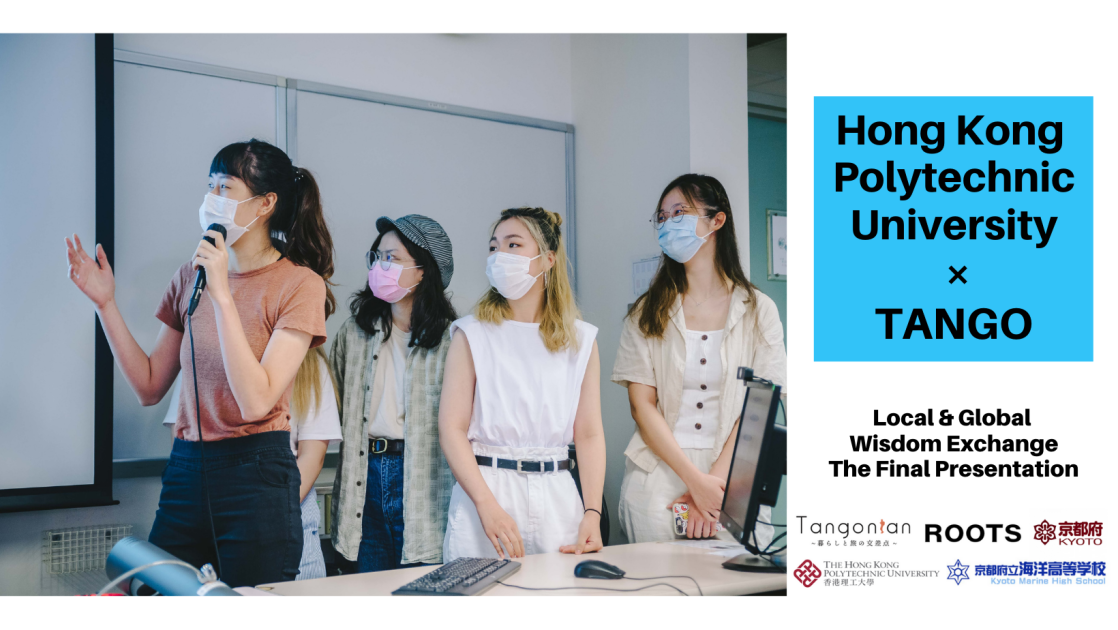 The online exchange event "Sustainable Satoyama / Satoumi Model in Tango Creation Project" Hong Kong Polytechnic University x TANGO ~ The Final Presentation ~ was held on June 28th and 30th, 2021.
This event is a presentation format in which students from the Hong Kong Polytechnic University deepen their learning about northern Kyoto and Tango, and propose new ideas aimed at creating sustainable Satoyama and Satoumi in Tango. In the two days, seven groups made presentations on different themes.
Thanks to this event, students from Kyoto Prefectural Kaiyo High School indulged in interactive learning with Hong Kong Polytechnic University students and various players from inside and outside the region. On the day of the event, they participated in an online meeting with Hong Kong students. They discussed ideas and had lively discussions with the help of an interpreter.
ーーーーーーーーーーーーーーーーーーーーーーーーーーーーーー
『Sustainable Tango Satoyama / Satoumi Model Creation Project』
(Kyoto Prefecture Tango Wide Area Promotion Bureau
Related Population Creation Program Adoption Project)

Organizer:General Incorporated Association Tangonian
Co-organizer:Kyoto Prefecture Tango Wide Area Promotion Bureau
(Partners)
Hong Kong Polytechnic University・Kyoto Prefectural Kaiyo High School
(International Education Coordinator)
ROOTS Co., Ltd.,
(Cooperation)
Kyoto by the Sea DMO
Yasushi Hondo(representative of Hondo Fisheries)
Yahiro Jikyo(Kamimiyazu Regional Conference)
Shunsuke Terada(representative of Kamiyazu lab)
Naoya Seki(representative of tangobar LLC)
Yoshio Akamatsu(Assistant Professor, Center for Southeast Asian Studies, Kyoto University)
Shunsuke Azuma(student of Kyoto University)
Kohei Morishita(student of Kyoto University)
ーーーーーーーーーーーーーーーーーーーーーーーーーーーーーー


Project history
Tree house construction program in Keihoku

Hong Kong Polytechnic University has a mandatory participation program called Service Learning. It provides students with ideas and manpower to areas with various problems and challenges. It helps them deepen and strengthen their practical knowledge.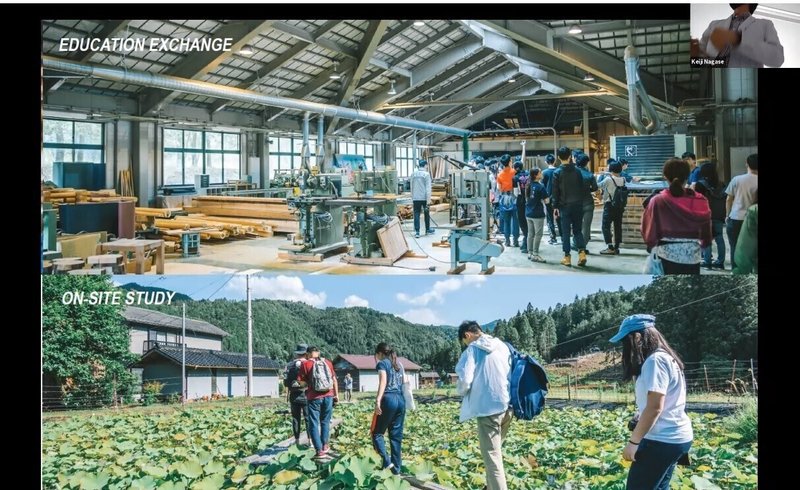 By using this Service-learning, in 2019, Hong Kong Polytechnic University has collaborated with ROOTS Co., Ltd. and carried out a Tree House Construction Program on the theme of forestry (It is a local industry in Keihoku), natural disasters such as typhoons (common in Hong Kong).
Keiji Nagase, the representative director of Tangonian, is the organizer of this project. He was involved in it online, in Keihoku.
He mentioned, "I was amazed by the passion of Hong Kong Polytechnic University students, and their proposal of new ideas based on a good and proper understanding of regional issues."
He decided to hold this project in Tango as a new field because he thought "Satoyama was the theme in Keihoku, but in Tango, students could enhance their learning with a different theme called Satoumi."

Deepening learning with each other by interacting with local players and high school students in Tango
On the Tango Peninsula, which is located in the northern part of Kyoto Prefecture, fishing, agriculture, and textiles have developed along with the rich nature. On the other hand, we are also facing issues such as natural disasters like earthquakes and typhoons, marine pollution, and a shortage of successors to the primary industry due to the declining and aging population.
Unfortunately, due to the corona pandemic, it was not possible for Hong Kong students to come to Tango, but from the beginning of June 2021 in order to get a deeper and more multifaceted understanding of the attractions and challenges of Tango, we have been interacting online.
The key players who develop Satoumi and Satoyama conservation activities in Tango, and promote local products, are also involved in the work around the abundant marine resources of Miyazu Bay. They work on the creation of fish reefs and make limited catches to protect Satoumi. They are also key players in the efforts to develop products by using local resources and Honmoroko aquaculture endeavors for revitalization of the KAMIMIYAZU area.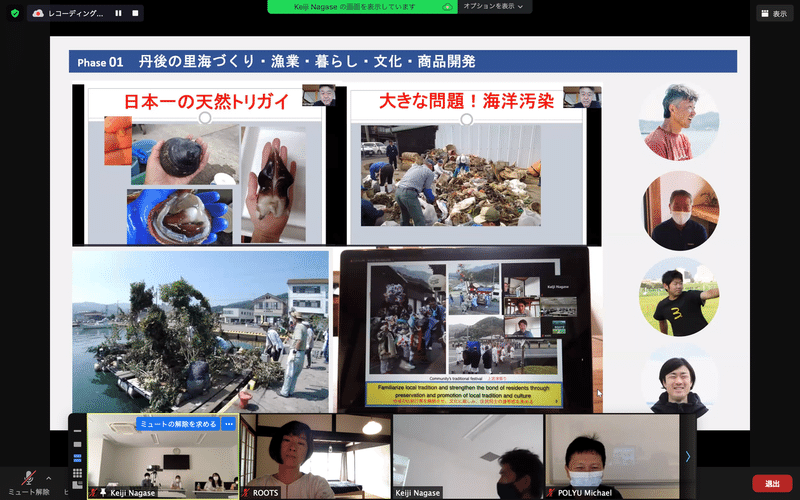 The 2nd and 3rd-grade students of the Department of Marine Science from the Kyoto Prefectural Kaiyo High School introduced online unique classes and efforts of the Marine High School in English. They also held workshops to teach how to do rope work.
In addition, in order to let them feel the charm of Tango's resources, they send mackerel cans, sardine ajillo caught in Miyazu Bay, Kumihama oyster ajillo, and canned Honmoroko which all supervised by Marine High School to Hong Kong and actually let them eat these products.
Hong Kong students could not come to Tango so the local side spent as much time as possible on this project with the desire to give as many inputs as possible.
The university side also spent more than 30 hours conducting research and group work for this final presentation.

Proposals by Hong Kong Polytechnic University students aimed to create sustainable Satoyama and Satoumi in Tango ~First group~

┃Group1.Hotel on the water utilizing fishing reef
Miyazu Bay has a history of building fishing reefs for more than 50 years to protect Satoumi. Although, it is now facing the problems of aging and successors.
Group 1 proposed to build a hotel using wood from Tango on the artificial reef. It is a proposal which aims at the development of sustainable tourism starting from this hotel.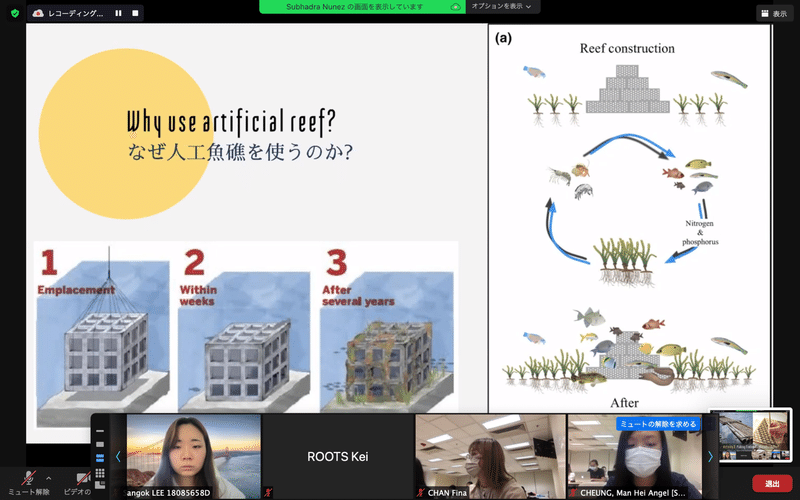 They showed and explained to us the drawing of the hotel concretely.
There is a fishing reef under the hotel, and Tango bamboo is used for the flooring of the room. It is a new design which you can see inside the sea through the gaps between the bamboo.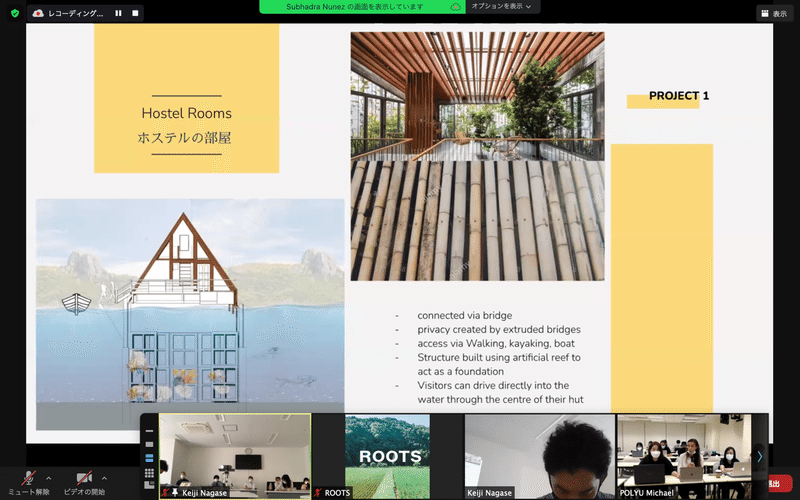 The concept is "the bond that connects me, you, and Tango." The hotel offers experience programs that create these four connections: mountains and the sea, outside and inside the area, people and nature, and people and space.
For example, a fishing tour where locals teach you how to fish and a visit to a fish processing facility. We wanted to make them deepen their understanding of marine resources and products by looking at actual production sites not only as consumers.
Ms.Feilang, a social designer co-representative of ROOTS Co., Ltd., commented: "In recent years, the question of what affluence is has become important in tourism, and it was wonderful that this team expresses richness as a "bond." Like the hotel that they proposed, they lay great importance to the richness of the experience of stories from the area where you stay."
In response to the question from the participants, "How was your interaction with local high school students?" The Hong Kong Polytechnic University student answered, "I think we could incorporate the project that the Marine High School is working on on our own. The exchange that went across and beyond generations led to this idea. "
Group2."Tango no Koi" tour with romance as the keyword
Students said that when they identified the big issue of the declining birthrate and aging population in preliminary research, they noticed there were more men in Tango. On the contrary, there are more women in Hong Kong, so Group2's proposal is "Tango no Koi " tour which is a tour targeting women in Hong Kong.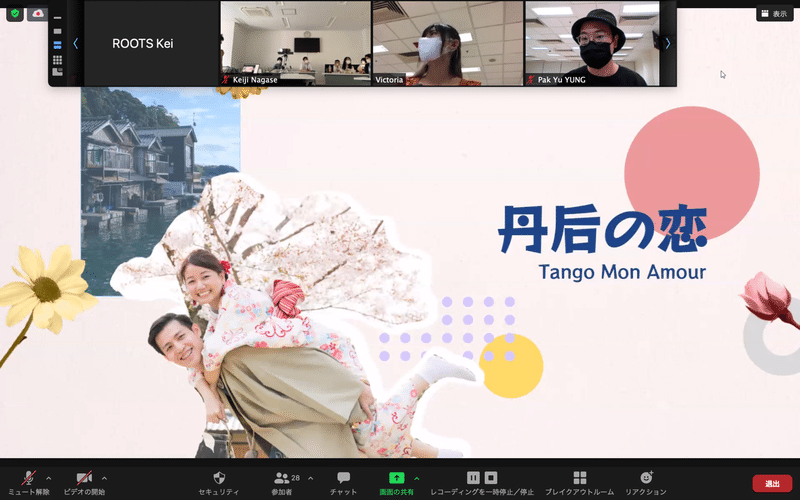 There are many beautiful and romantic scenery in Tango, and the program aims to create such an experience of spending time with loved ones there.
There are many beautiful and romantic scenery in Tango, and the program aims to create such an experience of spending time with loved ones there.
They chose Ine Town in Tango and announced a 3 main tour, (1) staying at a traditional boat shop and feeling the beauty of nature in each season, (2) shopping at a floating market called "Ine Kai Market" (3) holding a canning workshop.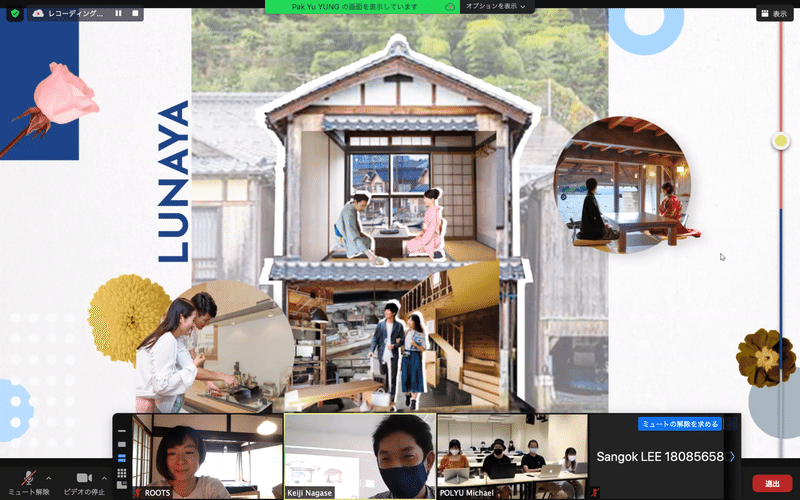 Also, I love you is described as "the moon is beautiful" in Japan so they proposed a moon motif design of the can.
Feilang commented about this tour "It was unique and fun to challenge the social problem of the declining birthrate and aging population from the perspective of romance."

"Kamimiyazu has a beautiful starry sky and fireflies, so I want you to design from it as well. The important point is not only seeing the view or experiencing it but also how visitors can meet the locals." Mr. Shunsuke Terada is the representative of Kamiyazu Lab.
This group saw the shortage of fishermen's successors and the lack of cultural exchange in Tango as issues. What they proposed overturns our conventional concepts, such as creating a new license system for fishing licenses and inviting young fishermen to Japan from overseas.
The students wondered why the number of successors of fishermen in Japan is decreasing even though the income is not so low. As a result of their research, they concluded that the system of fishery rights makes creating successors difficult, and they came up with the idea of this proposal.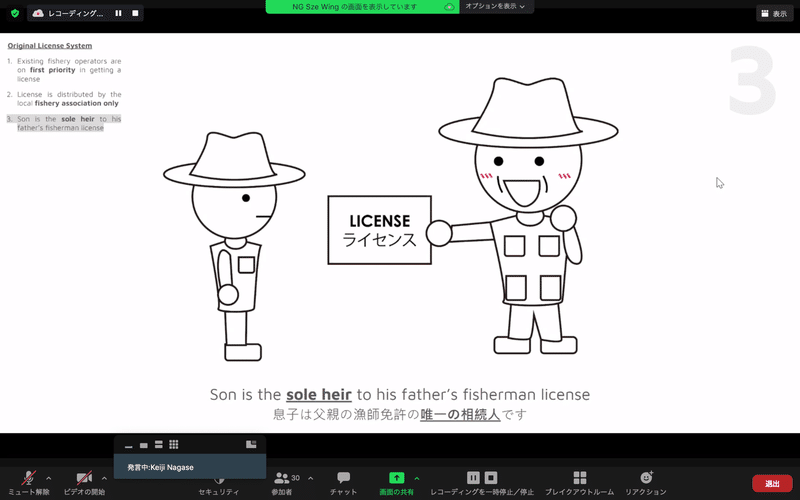 They considered a mechanism for fishermen from various countries to come to Tango by introducing license systems from overseas, and the example of the community center of foreign countries where they can learn about both knowledge and skills.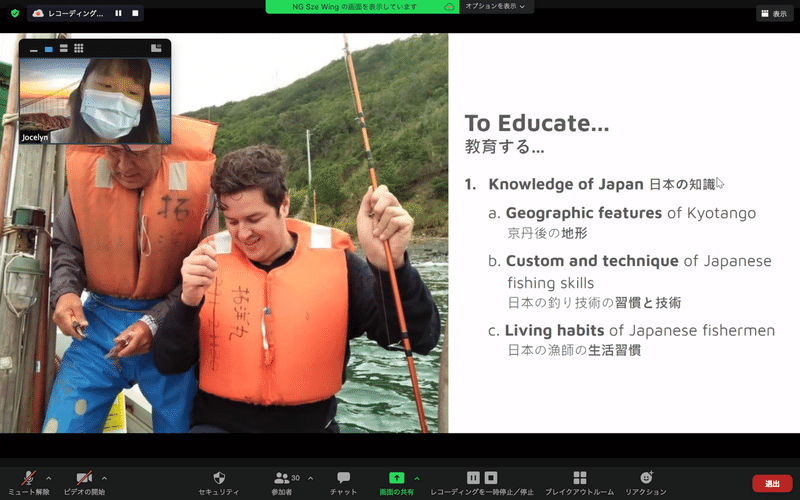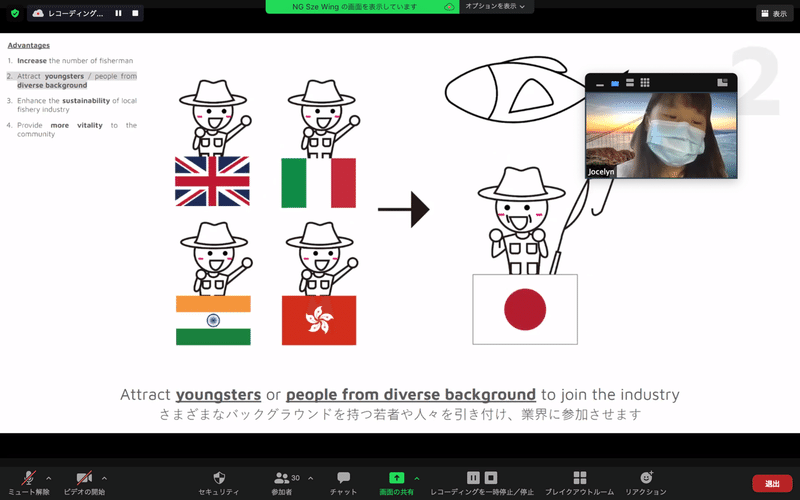 Yasushi Hondo, who is a fisherman in Miyazu, commented: "The system of fishing rights is certainly a major issue. I feel an important thing for increasing the number of young fishermen is rewarding, a reason to live, and profitable fishing."
Participants commented, "The introduction of examples from various countries was so helpful." "I feel that we need to differentiate from other regions to make people interested in the sea of Tango."
A student from Hong Kong Polytechnic University added: "When I made this presentation, I asked my fishermen friends for their opinion, and they said that there will be many young people who want to visit Japan if the system is organized because they are interested in Japanese techniques."
After the first half group's presentation

After the first 3 groups' presentations, there were various opinions and impressions from the local side.
"I was happy that there were many proposals that would serve as a bridge between the region and overseas. As the number of nomadic workers increases in Japan, There is a movement that invites those interested in fishing to explore the long-term possibilities. It will be interesting if there is a side business model between pro and armature. "
I appreciate that each group is focusing on sustainability. I still feel that it is important that everyone learns knowledge and skills, and that there is also a lot to learn from the outside for local people. I want to make an effort for these ideas to come true."
"It was nice to interact with each other. There are many proposals that not only people in Tango but also other participants in Japan have not imagined before. It was a good opportunity to learn about the perspective of Japan from overseas."
It was a very fulfilling moment that lasted three hours. I was impressed that even online if we repeat the dialogues and share the learning, we can have such meaningful exchanges with foreign countries. Each team understood the challenges of Tango well and made very unique proposals from a new angle that we did not have.
Please look forward to the proposal of the last four groups and future developments.
ライター Writer:坂本 知恵里 Chieri Sakamoto
翻訳 Translator:岸 あやか Ayaka Kishi(一般社団法人Tangonian)
プロジェクト当日の様子の動画は下記リンクからご覧いただけます!
You can see the video of the project from the link below!
【Hong Kong Polytechnic University × 京都府立海洋高等学校 (当日の様子)】
↓ ↓ ↓ ↓ ↓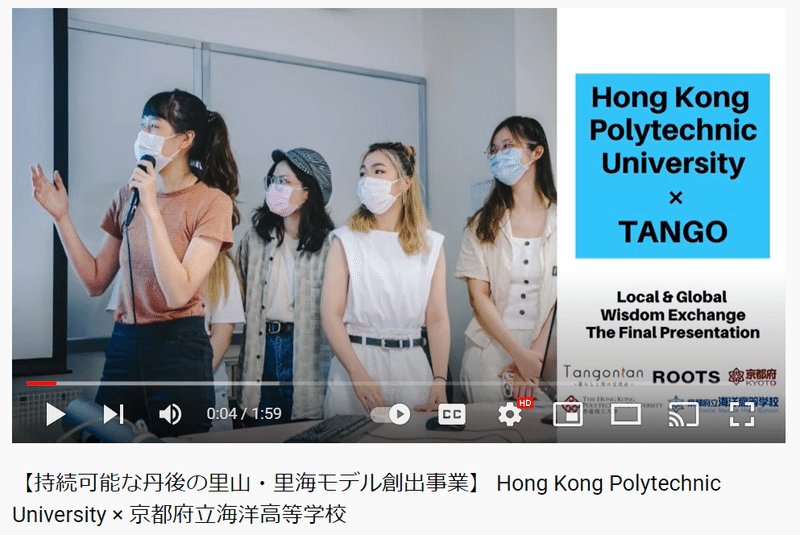 You can read the article from the link below!
【香港経済新聞(リンク)】
↓ ↓ ↓ ↓ ↓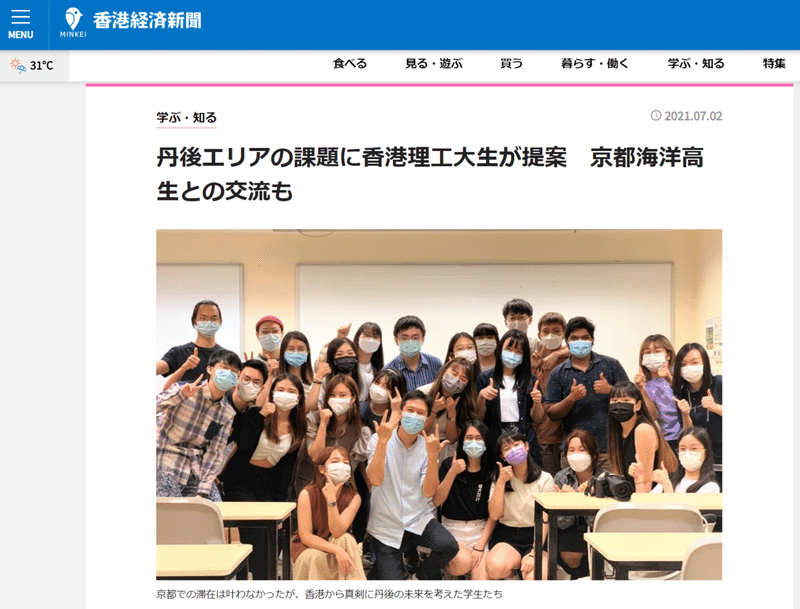 Link: Aiming for Sustainable Tango Satoyama and Satoumi-Part 2-