ARCHIVE
2021.6.28
LOCAL WISDOM TOUR
The wisdom and power of the region that continues to protect the Singing Sand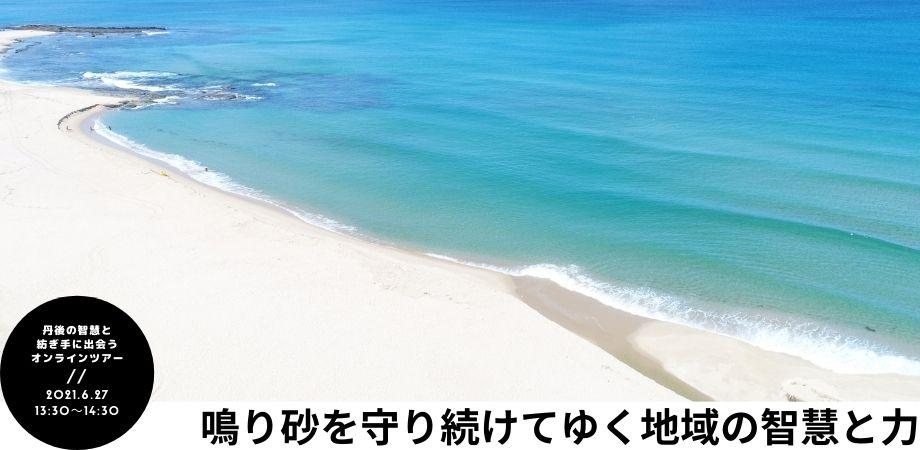 On June 27, 2021, "Online tour Vol.1 meet Tango's wisdom and spinners ーThe wisdom and power of the region that continues to protect The Singing Sandー" was held.
This is an online event that introduces and interacts with attractive people who live, work, and make things while harmonizing with the abundant nature at the Tango Peninsula located in the northern part of Kyoto Prefecture. With the theme of the wisdom of the region and lifestyle that has been spun over the years, totally 6 types of tours are scheduled to be held this year.
The first local wisdom mister is Mr. Chiyoko Maruta, the representative of Kotohiki beach Guide Synchro, who is engaged in coastal conservation activities and guide activities at Kotohiki beach in the Kakezu district of Amino-cho, Kyotango City, Kyoto Prefecture.
From the hands-on learning facility "Kotohiki beach Singing Sand Culture Center" where you can learn about Kotohiki beach and the singing sand, Mr. Tamoi, the director, talked about the wisdom and power of the local people who continue to protect the beautiful Kotohiki beach and its charm.
————————————-
【Local wisdom mister】
丸田 智代子(Chiyoko Maruta) 
琴引浜ガイド シンクロ 代表 The representative of Kotohiki beach Guide Synchro
山陰海岸ジオパークガイドコーディネーター Sanin coast Geopark Guide Coordinator
民宿ニュー丸田荘 女将 Landlady of the guest house New Maruta Sou

Born in Ikeda-cho, Imadate District, Fukui Prefecture.
Settled in Kyotango, her husband's parents' home, in 1991 from Kyoto city.
She has been involved in community activities since around 2007 when the third child was independent.
Since 2012, She has been the representative of Kotobiki beach Guide Synchro.
【モデレーター】Moderator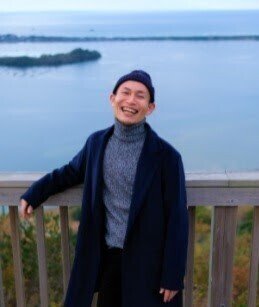 長瀬 啓二 (Keiji Nagase)
一般社団法人Tangonian 代表理事
Representative Director of Tangonian General Incorporated Association

Born in Kyotango City, Kyoto Prefecture.
While studying at Kyoto University of Foreign Studies, studied abroad in Australia.
Back to the local city of Kyotango from 2010 and after working as a junior high school English teacher, a welfare organization, a railway company employee, and Toyooka DMO, he established Tangonian.
Engaged in community tourism activities with the concept of "the intersection of Living and Traveling".
Kotohiki beach singing sand that circulates with the power of nature
We held this online tour at "Kotohiki beach Singing Sand Culture Center", a facility where you can learn about the relationship between people and nature through singing sand and environmental conservation of the sea. Mr. Tamoi, the director of the museum, explained about Kotobiki beach and singing sand while guiding the inside of the facility.
Mr.Tamoi:Singing sand is sand that makes a squeaky sound when force is applied. There are about 30 singing sand beaches all over Japan, but Kotohiki beach is the entire 1.8 km sandy beach. It's one of the largest singing sand beaches in Japan.
Mr.Nagase :Why does the sand make a sound like this?
Mr.Tamoi :The main component of sand is called quartz, and when pressure is applied to finely polished quartz, the sand layer vibrates, so it makes a sound. If this quartz is not contained at least 60% on a weight basis, it will not become singing sand. The sand of Kotohiki beach contains about 77% of quartz, and the sand sings because it is beautifully polished by the flow on the Sea of ​​Japan side.
The sand of Kotohiki beach is exhibited in the hall, and you can make a sound. When Mr. Nagase hit the sand with a wooden stick, we heard the sound of the sand squeaking.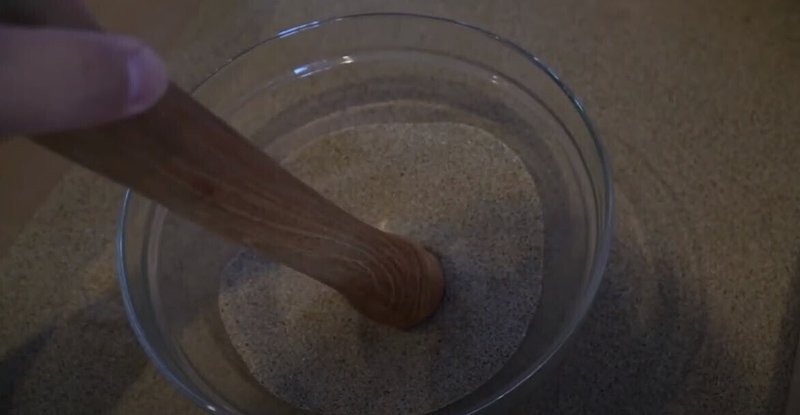 Mr.Nagase :It makes a unique sound! But it won't sound unless the sand is well polished, right?
Mr.Tamoi :That's right. If the sand gets dirty, it will make less sound and finally will not make sound at all. If you hit it about 400 to 500 times, it won't sound because it's so delicate. When the sand on Kotohiki beach gets dirty, it returns to the sea, and it is cleaned by the waves and comes again. It circulates all the time with the power of nature. The natural cycle continues because the beaches have not been reclaimed, roads or parks have not been built, and have not been developed by humans, and the tides and ecosystems have remained unchanged since ancient times.
Mr.Nagase :It's a wonderful cycle of nature. Besides not being developed by humans, there are various efforts to protect the singing sand, right?
Mr.Tamoi :Yes that's right. Kotohiki beach has some restrictions to protect the beautiful beach. This is Japan's first non-smoking beach, and smoking is prohibited on sandy beaches. Also, fireworks, camping, etc. are prohibited except in designated places. Furthermore, since it became a national natural monument in 2007, it has been banned from taking out sand. Under these restrictions, we all protect the beautiful beach.

Micro shells and foraminifera that symbolize the beauty of the sea
In the microscope corner, you can use a microscope to see minerals such as quartz and iron sand, which are the main components of singing sand, and micro shells.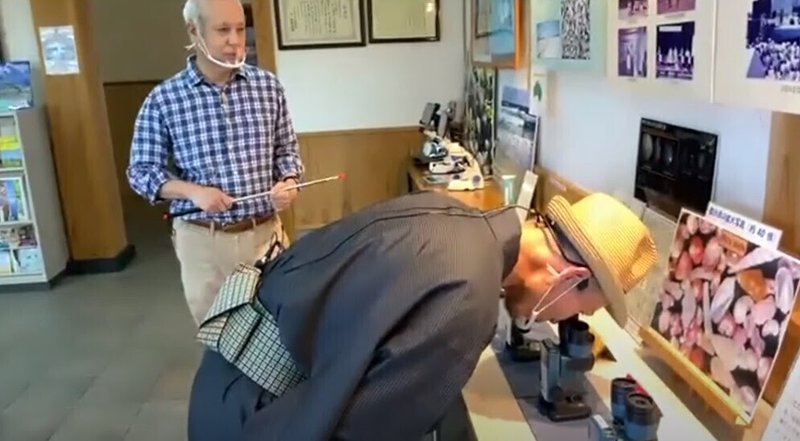 Mr.Tamoi :Small shells are 2 to 3 mm and are difficult to see with the naked eye. It is also a feature of Kotohiki beach that there are small shells. It seems that 500 to 600 species have been confirmed at Kotohiki beach, but since it is a small creature, it is the first creature to die when the sea becomes dirty.

Mr. Nagase :The fact that there are many small shells is proof that the sea is still beautiful.

Mr.Tamoi :That's right. There is also a foraminifera that is said to live only in the beautiful sea. The true identity of the star sand found in the sea of ​​Okinawa is this foraminifera, but at Kotohiki beach, white and round shapes have been confirmed. It is about 1 mm in size and has been inhabited for 500 million years. I hear that it is difficult to confirm these creatures because the development is progressing on the Pacific side.
Mr. Nagase :The presence of micro shells and foraminifera is a barometer of the environment.
There is also an observation corner in the hall where you can search for small shells and foraminifera from the sand of Kotohiki beach with a loupe, so you will want to experience it when you visit.

Overcome the crisis of singing sand destruction with the power of local people
On the 2nd floor of the building, there is an exhibition of drifting objects, which is a corner for thinking about environmental conservation in the Sea of ​​Japan. The record of the heavy oil disaster that occurred in 1997 is also exhibited, and the director talked about the situation at that time.
Mr.Tamoi :In January 1997, a large amount of heavy oil spilled from a Russian tanker that sank off the coast of Shimane Prefecture and rushed to Kotohiki Beach.
At one point, the singing sand was in danger of being destroyed, but with the participation of all the townspeople, heavy oil was collected, and many volunteers from all over the country came to restore the beautiful Kotohiki beach to its original condition in April.
Since there are waves in the sea, heavy oil may come back on the waves even if it is cleaned once. I continued doing this frustrating work for 4 months. I think a total of about 30,000 people cooperated.
Mr. Nagase :I also remember that I went to the sea with the soccer team that time and took a lump of fat. That was heavy oil.
The singing sand of Kotohiki beach is protected by many people. However, various things still flow to the beach.
Mr.Tamoi :There are two types of drifting garbage: natural trash and artificial trash.
Natural trash includes walnuts flowing from the mountains and palm fruits flowing from the subtropical zone, which return to nature, so there is not much problem. Here, we call it drifting garbage with romance (laughs).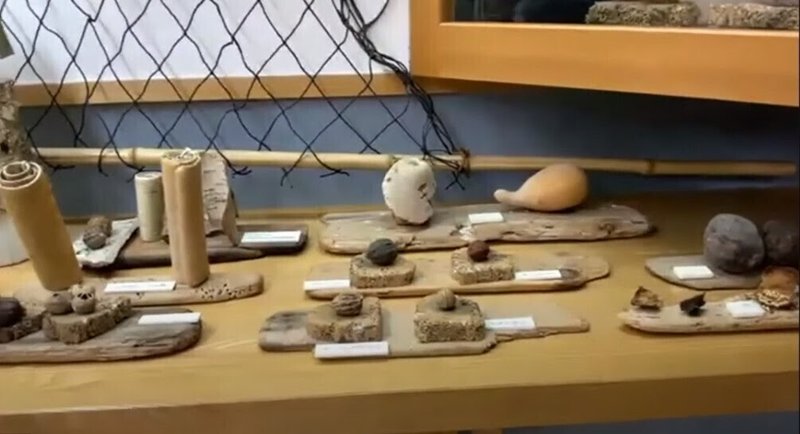 Mr.Tamoi :On the other hand, artificial drifting garbage such as glass and plastic floats, disposable lighters, needles and medicine bottles, and Styrofoam do not return to nature.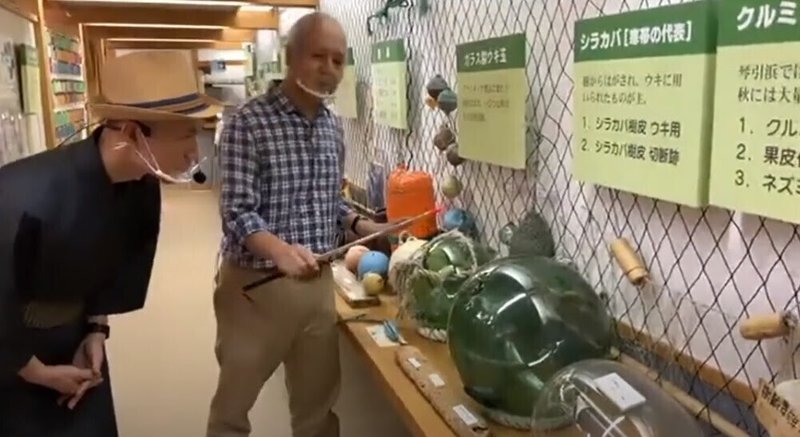 Mr. Nagase:There are some that seem to have arrived from abroad.
Mr.Tamoi :Because there is an ocean current, products made in China and South Korea will inevitably flow.
A lot of microplastics, which were originally large plastics but have become finer due to ultraviolet rays and waves, and resin pellets, which are used as intermediate materials for plastics, are also flowing. There is also the problem that sea creatures mistakenly eat these as food.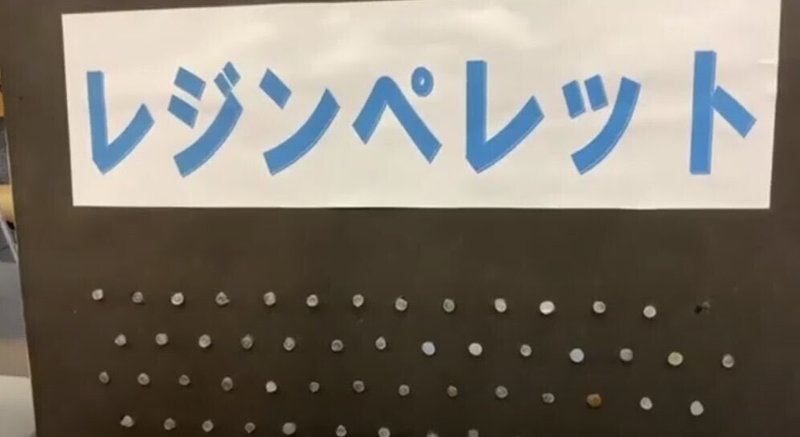 Mr. Nagase :We humans may eat the fish that have eaten such things.
It was a story that clearly shows that if the sea and beach are polluted, it will directly affect our lives.

Mechanism to continue to protect the beautiful beach
In the second half, Ms. Maruta, the local wisdom mister, talked about the people in the area who continue to protect the beautiful beach.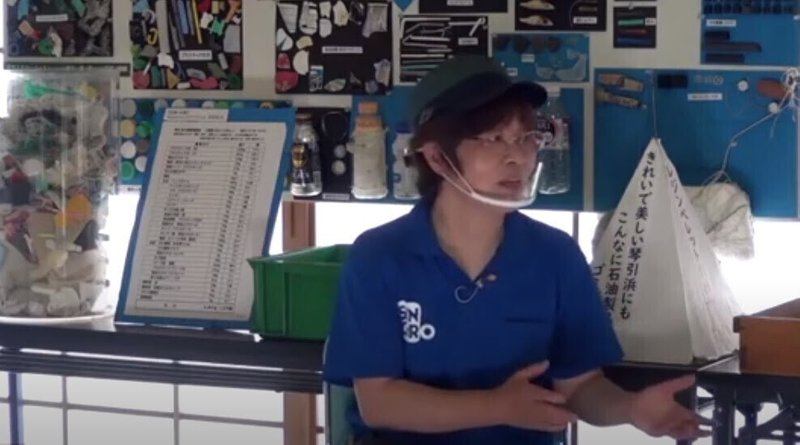 Ms. Maruta :In the area of Kakezu, where I live, there are currently 52 houses with a population of 170, and all residents are protecting Kotohiki beach. Keeping the beach protected is not an easy task but The Singing Sand Conservation Group has been running for over 35 years, and as it continues, various other activist groups have formed.
I think that we have appealed to society by continuing our activities, such as the establishment of ordinances of non-smoking beaches, the establishment of the Singing Sand Culture Center, and the designation as a natural monument.
Mr. Nagase :How often do you clean up the beach?
Ms. Maruta :At this time of the beach opening, we go about once a week for two months.
Mr. Nagase :Everyone who lives here is almost always participating in local activities related to the beach.
Ms. Maruta :That's a matter of course for residents. And those who park their cars in the parking lot of Kotohiki beach pay money in the form of a cleaning cooperation fee, and based on that, the staff members all year round go to the beach to engage in activities such as cleaning.
Recently, people often said that SDGs and sustainable community development are important, but we have been thinking about how to protect the beautiful beach for a long time, and we have been working on a circular system from the early time such as creating employment that the community manages.
Mr. Nagase :Through these efforts, we have been able to sustainably maintain a beautiful beach.

What we can be started to protect the environment
We also received various questions from those who participated online.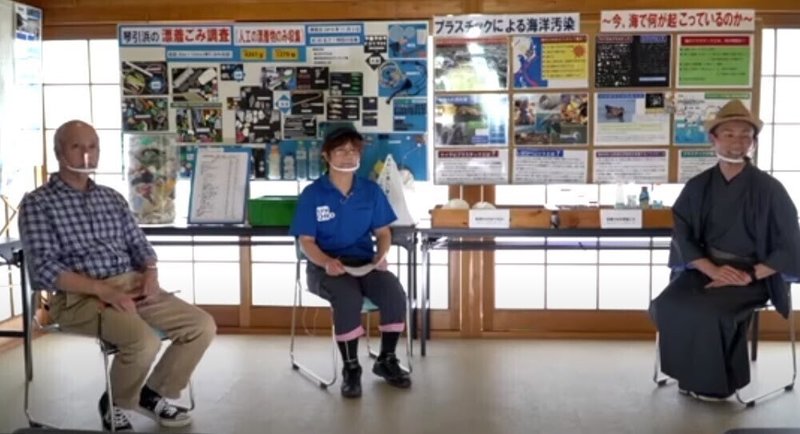 Participant :I have a desire to participate in the activity, but what should I start with?
Ms. Maruta :Recently, there are many young groups doing beach cleaning, and we are actively posting information on Facebook, etc. so please collect information from those places.
Participant :Is sea glass a classification of marine debris?
Mr.Tamoi :Yes, that's right. However, although it is garbage, there are many ways to use it, so you may want to collect it. At our museum, you can also bring the sea glass you picked up to experience handicraft work.
Participant :What can we do now to tackle the problem of drifting debris and plastics?
Ms. Maruta :For example, when I go on a trip, I think it would be nice if I could devise something that would not be disposable, such as bringing my towel or my toothbrush.
Also, in my guide activities, I collaborate with elementary schools and high schools in Amino, participate in the marine debris survey, which is a global ICC campaign, and provide a place to learn about and think about garbage problems with students.
Mr.Tamoi :First of all, it is important to 'know' the issues. And not only picking up trash but also it is important to reduce it, so review your life once and don't buy unnecessary things as much as possible.
Participant :Are there any examples of turning collected garbage into products?
Ms. Maruta :I heard that the Amino Town cooperation team is making a machine that separates the picked-up plastic and making coasters and key chains. I wish I could make a beach clean bag with the trash I picked up.
Mr. Nagase :I feel a lot of potentials. In the future, it would be nice if we can make toilets in public facilities with recycled materials.
Mr.Tamoi :I hope that such activities will proceed in collaboration with companies in the future.
Finally, Ms. Maruta sent the words "We are taking care of this beach for the next generation." The former chairman of the society to protect the singing sand said that it remains in her heart.
Mr. Tamoi sent a message, "I would be grateful if you could come to the Cultural Center to see it and cooperate with various activities."
Participants also commented that they would like to visit Kotohiki beach.
I think this online event allowed us an opportunity to think about why it is so beautiful and what kind of background it has behind it, rather than just looking at the beautiful sea.
And I think it was a time when we learned how protecting the sea and beaches would affect our lives and wondered what we could do.


I want to visit Kotohiki beach and play in the singing sand that is being protected with everyone.
ライター Writer:坂本 知恵里 Chieri Sakamoto
翻訳 Translator:岸 あやか Ayaka Kishi(一般社団法人Tangonian)

Click below for the website of "Kotohiki beach Singing Sand Culture Center"
↓↓↓↓↓↓↓↓↓↓↓↓
Please check at Tangonian's article
↓ ↓ ↓